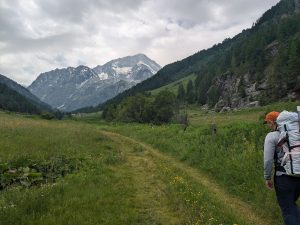 In preparation for mountaineering near Zermatt, Switzerland, my friend and I did a few acclimatization hikes in the neighboring Val d'Harens during the last week of June, 2023. Our original plan was to do a traverse from the Bertol Hut, near the village of Arolla, across the Tete Blanche to the Schoenbiel hut and then on to Zermatt, where we would be staying before the start of our Monta Rosa traverse (essentially, the end of the High Haute route from Chamonix to Zermatt). However, the weather had other ideas, so we ended up just hiking around the valley and then taking buses and trains back to Zermatt. It was good acclimatization regardless, and we got to explore a less-busy area of Switzerland.
Unlike Zermatt, this valley is in the French-speaking area of Switzerland. I learned some German for this trip, not French, so we would see how that went.
Total stats: 22 miles, 10,366 feet of elevation gain. Highest point: 10,600 feet (Bertol Hut)
GPX tracks: 
Day 1: Hike up to Cabane de La Tsa
Getting to Cabane de la Tsa
We took a couple of trains from Zermatt to Sion, then a bus to Le Hadares and then to Pramousse, which appeared to be only a cluster of small buildings. From there we found the trail to Cabane de Tsa (with the help of Gaia). We had to pass through a string fence, which apparently is enough to keep cattle out. My vet friend says they are very stupid. Once we found the trail through the pasture, it was pretty much straight up to the "hut."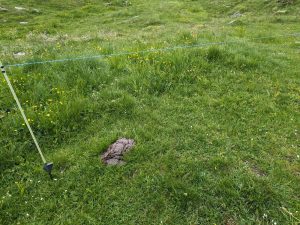 From the Cabane de la Tsa (8500 feet), I did a short scramble up to a high point on the ridge above, at about 9400 feet.
A Hut Only in Name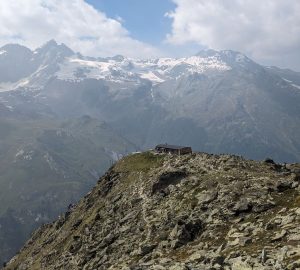 These huts are more like alpine lodges. Most are owned and operated by one of the chapters of the Alpine Club of Switzerland (SAC), although a few are privately-owned. We met a woman at Cabane de la Tsa who is from board of the Neuchâtel chapter of the SAC, who owns the Cabane de la Tsa. The huts serve meals and provide beds and bedding to sleep in. They are supplied by helicopter. Some of the busier alpine huts get helicopter drops every day, while small ones like Tsa only get their helicoptor drops at the beginning of the season and have to make those last, along with whatever trekkers bring up, for the rest of the season.
The Most Laid-Back Hut in Switzerland?
The Cabane de la Tsa is named for the Aiguille de la Tsa that it sits below. Its proprietor, as of time of writing, was a nice lady named Diana who spoke fairly good English. The entire list of rules was in French, so I asked her what they were. She laughed and said "those were from the old guardian, I don't have that many rules." We did have to leave our ice axes, trekking poles, and boots in the small room behind the front door. There were crocs provided for us to put on, which we could wear around without having to put our boots back on, and we would learn that this was standard practice at all the huts we stayed at.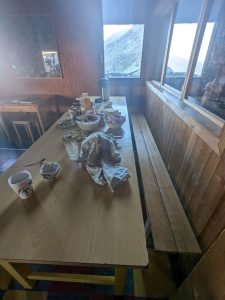 Cabane de la Tsa had the homiest feel of all the huts we stayed at. There were a couple of families staying there. One of the families was Swiss/Belgian/American, who were visiting a place the parents last visited 20 years ago. They helped translate things to us in French, which we really appreciated. The food was also decent, given its location and lack of resupply. The only downside was the toilet, which was essentially just a hole onto the rocks.
Day 2: The Bertol Hut
We awoke around 5:45am to pack our stuff in the common area (we shared our dorm room with the Swiss/Belgian/American family), ate breakfast, and then headed down towards Arolla, then up valley to the Bertol Hut. It was a very pretty day, at least until the clouds rolled in. After getting to the valley floor, we walked on paved roads, which turned into dirt roads, and then into trails. All of the turns were signed with time estimates to the next destination, which I took to be challenges.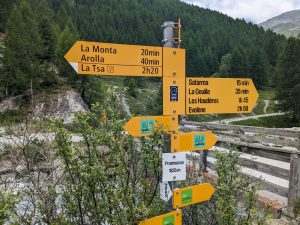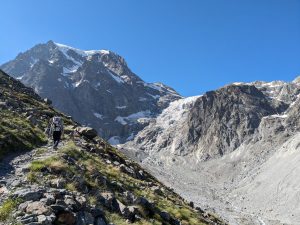 At "Plan Bertol," which seemed to be a hut (in the true sense of the word), we came across a guided group in which everyone was wearing harnesses. The people didn't really acknowledge us as we went by. We went a little too far to the left leaving the hut, since the people were standing in front of the trail and we couldn't see it, but were able to traverse over to the true trail later.
Finally, a reason for our ice axes
We changed into mountaineering boots when we reached the base of the snow, at about 9,000 feet. We could see the Bertol hut high on the ridge above us. By this point it was beginning to get cloudy. We started making our way up the mixed snow/rock slope, including scrambling up some wet rocks that had snow melt pouring over them.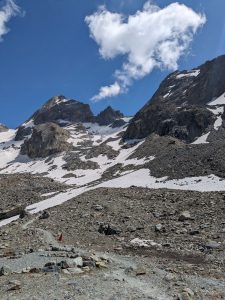 We reached the first set of ladders, but the guided group had now gotten in front of us and was being belayed up the ladders. This seemed like it could take awhile, so we took out our ice axes and climbed up a steep snow slope directly up to the base of the second set of ladders. The group was still ahead of us, but at least we hadn't had to wait for them.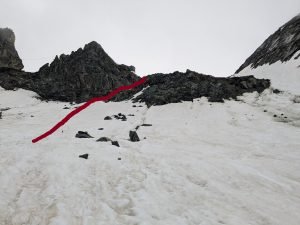 The second set of ladders were a little nerve-wracking. While we were climbing up, a guide came up behind us (apparently abandoning his clients) and told my friend that the snow slope was slippery and it was dangerous for us to go up it. This is, of course, the reason we had ice axes, and the snow was in pretty good shape.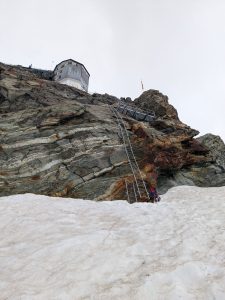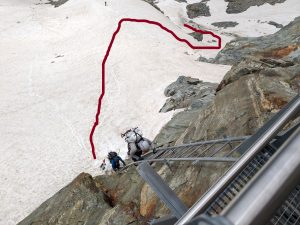 Bertol Hut: A Busy Mountain Hut
The weather started to get worse almost as soon as we arrived at the Bertol hut (10,600 feet), with visibility getting very low, high winds, and hail. Water cost 10 CHF a liter, so we filtered rain water, which had hail in it. The bathrooms were nice composting toilets, although we did have to go outside on the metal walkway to get to them.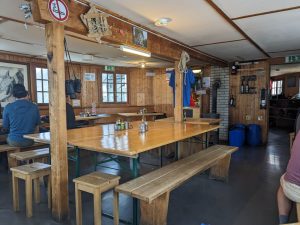 We ended up sharing a room with a bunch of the guys from the guided group who had ignored us earlier, but they were at least nice to us while we were sharing the room. They were on day 5 of the High Haute traverse. When we walked into the room they were changing and the wall of Frenchman bodily stank hit us pretty hard.
No Hablo Frances
Everyone in the hut spoke French, except us. We talked to the wardens about staying 2 nights, since it would allow for a rest day and better acclimatization, which they seemed to say yes to, although we later realized that they didn't really understand English and just said yes to things. There were some guides who spoke both English and French, so they were able to explain the innkeeper's speech about the weather being better earlier so breakfast would be at 6 and everyone would need to be out by 7. That seemed to mean we could not stay another night.
The food at Bertol was not awesome- butter pasta with some meat (pork?), but pretty good for 10,600 feet.
Day 3: Hike to Aguilles Rouges Hut
Down Ladders
We were the first people to descend in the morning. I had been nervous about climbing down wet ladders, but it was fine, apart from having soaked liner gloves. I changed out my gloves, we put on our crampons and our axes, and we walked down the snow slopes we had climbed up.
By the time we got to the bottom of the snow slope, it was softening up quite a bit. We went through the snow to avoid some sketchy wet scrambling, which may have been a mistake with all the postholing we ended up doing.
Switzerland or Scotland?
The hike down to Arolla was fairly uneventful. We were entertained by seeing a bunch of guided groups wearing harnesses for their entire approach to Bertol just for the few minutes they would be on the ladders.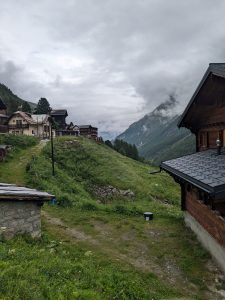 We walked through the town of Arolla and then up an obscure trail. We were following some trails on Gaia but missed a turn (or the turn no longer existed) and ended up going up and down through the forest for a long time before finally heading straight up. However, it was a very pretty hike- definitely the prettiest of all three days. The hike began going straight up near a pretty waterfall and small lake.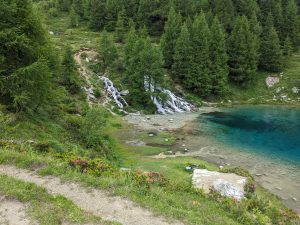 We went straight uphill for about 2300 feet. It had been sprinkling since Arolla, but became more of a nuisance above treeline. Treeline is also very abrupt, maybe because of the history of clearing. One second you're in the forest and the next there are no trees. The area above treeline reminded me of rainy Scotland.
Aguilles Rouges: A Hut with an Indoor Bathroom!
I stopped to filter water in the pouring rain just before reaching the Aguilles Rouges hut (9200 feet), which would turn out to be unnecessary. The last section to get to the hut involved postholing uphill and downhill through snow in the rain. Not exactly enjoyable.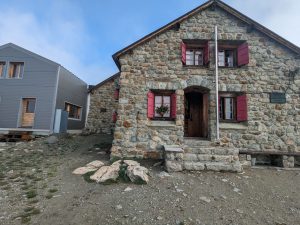 But I was elated to learn I would not have to go outside again once I got in the hut. There was an indoor bathroom with running water! Since we were the only guests, there was ample space to dry our gear. We drank hot chocolate, read, ate dinner, filtered water from the sink (we filtered because there was a sign that the water quality couldn't be guaranteed) and went to bed. The hut keepers spoke some English- certainly better than that at the Bertol hut- and we were able to use Google translate for the rest. The Aguilles Rouges hut also had the best food of any of the huts we stayed at in Switzerland, but that might be easier to do when you only have two guests.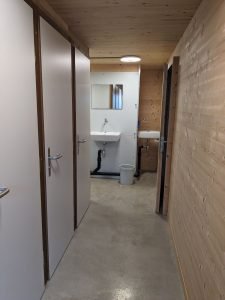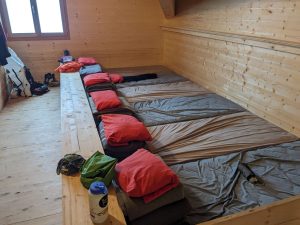 Classic Swiss Alpine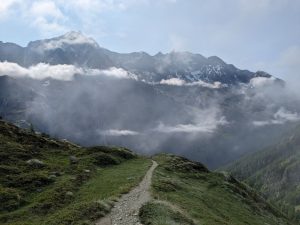 The clouds cleared as we descended the following morning. We seemed to get down pretty quickly, and the scenery was even prettier in the sunshine. We encountered some cows below the lake, as well as crowds of hikers heading up. There was a small cafe near the trailhead where we ate ice cream while waiting for the bus. This was definitely hiking in style!