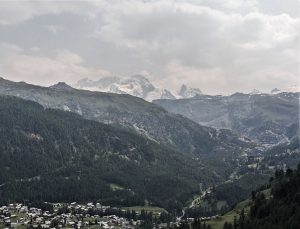 Total Stats: 24.5 miles; 11,414 feet of elevation gain
GPX Tracks:
I chose the Monte Rosa massif as my European mountain in my quest to climb a glaciated peak on every continent. The climb has technical climbing with creature comforts and the opportunity to summit multiple peaks.
We chose a four-day "extreme" itinerary. It was originally going to include an exposed traverse of the Lynksam ridge and a climb of Dafourspitze, Switzerland's highest peak. But weather, conditions, and our own not super-fast pace meant that we ended up just doing an accelerated version of the more pedestrian 5-day itinerary.
We also did 4 days of acclimatization hikes before this climb, which seemed to work well. Neither of us had much altitude sickness on this climb.
Day 1: The Klein Matterhorn to Guia d'Ayas Hut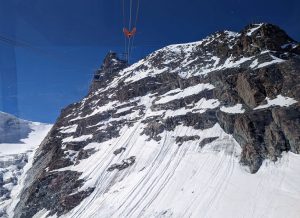 I technically summited my first European peak when I stepped off the gondola at the Klein Matterhorn (12,400 feet). The gondola ride from Zermatt took about 45 minutes and cost 78 CHF. The Klein Matterhorn complex at the top had a nice indoor flush bathroom with sit-down toilets. It cost 2 CHF to use, but I didn't mind for our last real bathroom for a few days.
The Breithorn- The Closer to the Gondola, the More People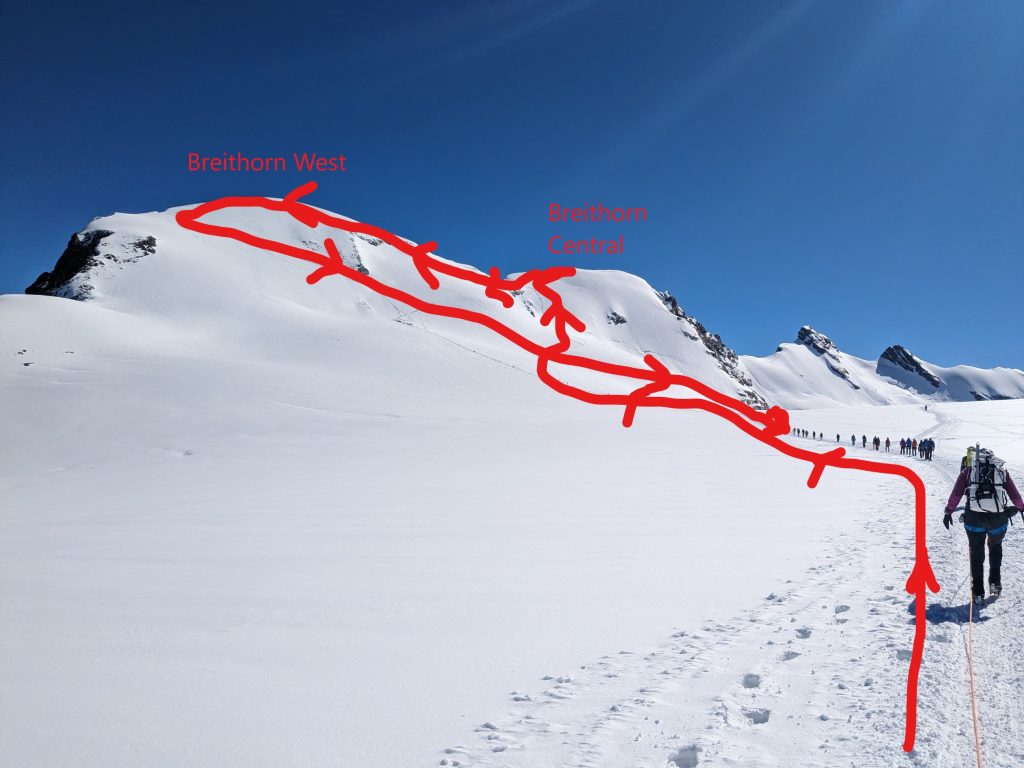 We passed a lot of guided groups on our way to the Breithorn (13,751 feet). I saw a lot of people stepping on ropes, sometimes ours, with crampons. Apparently the Breithorn is sold as an easy mountain climb in Zermatt because of the close access to the gondola, despite its knife-edge ridges and steep snow. It didn't look like these clients got much training on how to do anything.
We climbed steep snow to get up Breithorn Central and then traversed a narrow ridge to climb the west summit of Breithorn. Our guide made no secret of the fact that he was testing our technical ability, and seemed very concerned by my loud breathing. I have asthma and it was just normal breathing for me, but he slowed down the pace quite a bit. This would be a frustrating pattern throughout the trip- slow down the pace and then be concerned that we weren't moving fast enough.
The airy knife-edge traverse between the Central and West Breithorn seemed fine, and since it sounds like knife-edge ridges were common around here, I was pleased with that. The snow started to really soften up on the descent. At one point the guide said it would be another 45 minutes to the hut, and it ended up being an hour and a half through mashed potato snow.
Sleeping in the Mountains Indoors!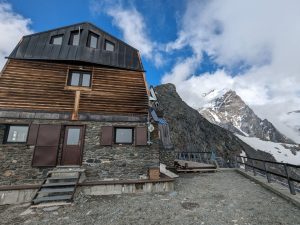 The Guia d'Ayas hut (11,050 feet) was probably the nicest of the trip. There were only 2 single bunkbeds per room. My friend and I shared a room with a couple who lived in Munich. This was their second mountaineering trip- they took a crevasse rescue class before, and then hired their instructor as a guide for this traverse. We talked to quite a few people- mostly Germans and Swiss- who were doing this traverse as their first mountaineering trip, and I was kind of surprised that people would be doing something this technical for their first trip.
The bathrooms were all indoor and unisex during this trip. There were stalls with separate squat toilets. One stall at the Guia d'Ayas hut was designated for women, but it didn't seem to do anything different than the other ones besides have signs about not throwing feminine hygiene products in the toilet.
The huts were all on the Italian side of the border, so they used Euros and were run by Italians. The proprieters at Guia d'Ayas spoke English well, with English accents. They were all men and let us ladies use the nice sit-down employee toilet in the morning.
Guia d'Ayas to Quintino Sello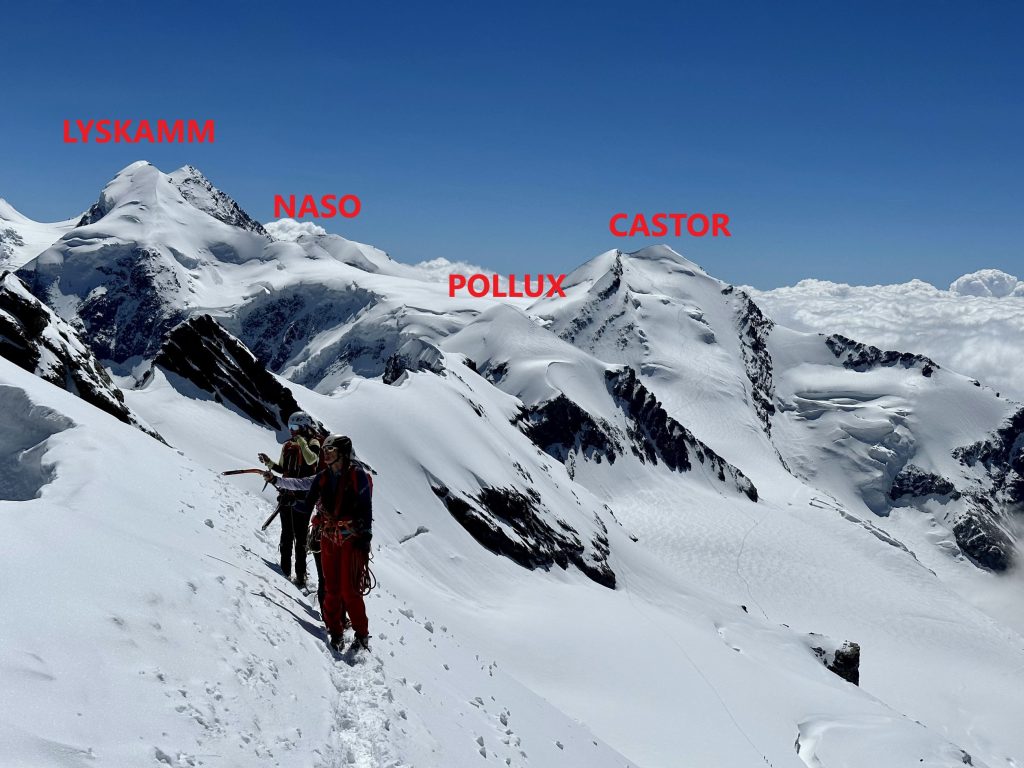 Sort of Rock Climbing up Pollux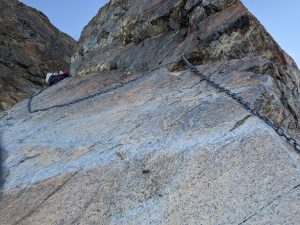 Our morning started with a climb of Pollux (13425 feet). This was a peak I was looking forward to, since it involved rock scrambling and sort-of rock climbing. We scrambled up rocks to avoid a steep snow coulier full of people, then reached the actual rock climbing. We climb up grabbing onto chains for your hands and using the rock for our feet (with crampons on). It probably would have been doable unguided, but I would have been pretty slow leading and the climb was kind of a shitshow with people going up and down and cramponing each others' ropes. Our guide just soloed it and quickly set up belay stations.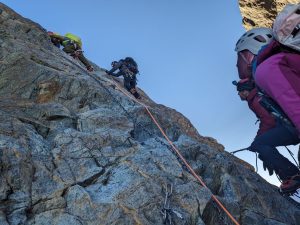 I was kind of surprised how much snow we still needed to climb to get to the true summit. I had been under the impression that there was an alternate descent from Pollux, but that seemed not to be the case- we were all going down the rock face while everyone was coming up.
Snow Climbing up Castor
We took a very short break at the bottom of Pollux, then headed up Castor (13,864). Castor was steep snow, which is definitely my favorite medium. My friend complained about how boring it was, but I thought it was quite pretty. From the top of Castor there is a narrow knife-edge ridge to the walk-off.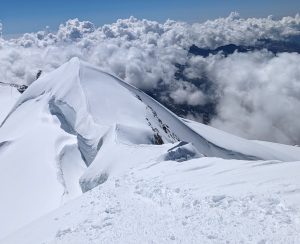 I realized during this trip that I was ok with ridges when we were going up or when there was a pile of snow to the side I could stick my axe into, but flat ridges with nothing to grab onto were pretty scary for me. I was well aware that the only thing our guide could do if one of us fell off a ridge was to fall off the other side. He had said earlier that he was nervous about guiding the Lyskamm ridge with two people, and would only do it if he thought we were both super solid and conditions were perfect. I was pretty sure neither of those things were the case, but I made clear when we got off the Castor traverse that I wasn't comfortable doing the Lyskamm traverse. Apparently it was a lot of completely flat ridge and you just had to rely on your feet. Given that I fell off a flat trail on the last day of our acclimatization hike, I didn't think just relying on my feet was a good idea.
The Quintino Sella Hut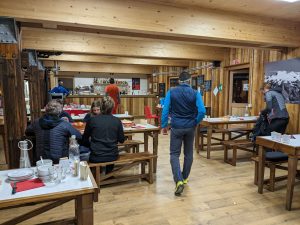 We descended to the Quintino Sella hut (11,742 feet) through more mashed-potato snow.  This hut had a very large common area and was run entirely by Italian women. Their English was not as good as that of the men at Guia d'Ayas, but Google translate helped me explain dietary restrictions and ask for new earplugs because I sadly left mine at the previous hut.
The bed situation was probably the worst at this hut. The common areas- the boot room, the dining area, and the bathroom- were quite large, but the beds were cramped and there was no storage whatsoever in the bedroom. I shared a double bunkbed with my friend, and learned from her crankiness the next morning that I was a more active sleeper than I realized.
I did appreciate the communal aspect though. We all ate dinner at the same time, brushed our teeth at the same time, went to bed at the same time, woke up at roughly the same time, ate breakfast at the same time, and started around the same time.
Day 3: Quintana Sella to Signalkappe/Margherita Hut
Unfortunately, both my friend and I had stomach problems the next morning. I felt nauseous and had to take off my boots and crampons to rush to the bathroom to dry heave right before we left. We both had ondansetron for nausea, but it makes me sleepy so I didn't take it. My friend took hers but it didn't really work. Since we'd mostly had different dinners we didn't think it was the food, and we'd been buying expensive bottled water so that couldn't be the culprit. I think it might have just been from having a big breakfast early in the morning.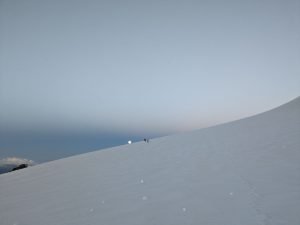 Ice Climbing the Naso de Lyskamm- the "easy" alternative
I knew that the Naso (Nose) on Lyskamm (14,016 feet) was easier than the traverse, so I didn't expect extended ice climbing. The equipment list had also said "standard ice axe," so even though my friend and I both had curved ice axes and ice tools at home, we didn't have them with us for this trip. So I did about 320 feet of 45 degree ice climbing with my standard, straight, ice axe. It was relatively "easy" ice climbing, as those things go, which was good, because I may not have been able to get up the mountain otherwise.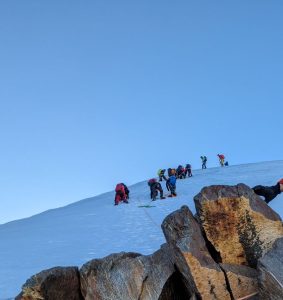 It's probably worth mentioning that I HATE ice climbing. I feel really insecure and front pointing lights my achilles on fire. My friend, who was in the middle, loves ice climbing. I had to hurry to keep up with her with my axe getting caught on my pole strap on my pack with every backswing. I got some breaks because our rope was only 40 meters long. My feet still had to be front pointed in at the belay stations, though, so it wasn't much relief.
There were way too many people going up at once, including some people simulclimbing between our guide and us, right on our rope. There was plenty of open space to our left, but it seemed like they weren't that confident and wanted to go where others had already kicked steps in.
Margherita Hut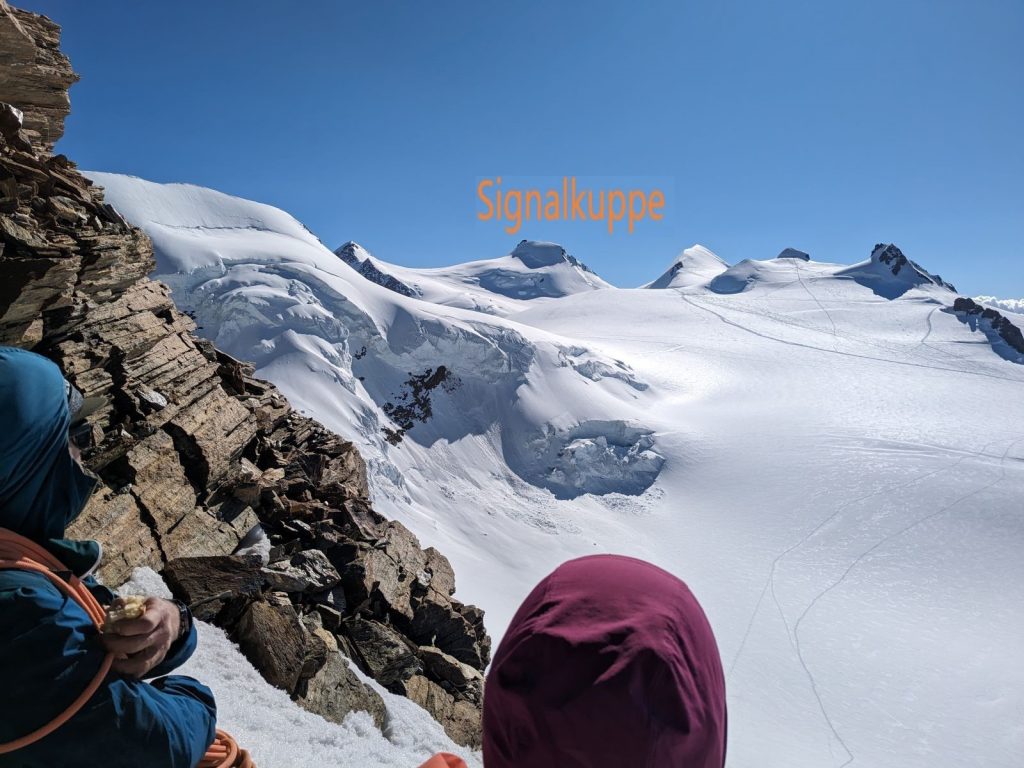 Had we been feeling better, this would have been the day to climb a bunch of 4000-meter peaks, but since we were trying to just keep our gut issues in check we just climbed to the Margherita Hut, on the summit of Signalkuppe (which still took hours).
The hut itself sits at 14,941 feet and is the highest hut in Europe, and in turn sits on the 6th-highest peak in the alps. The hut is named for Queen Margherita of Italy, who is the SAME PERSON Margherita Peak in Uganda is named for. She actually climbed Signalkuppe in 1893 to attend the opening of the first iteration of the hut. The views around the hut were really cool, and honestly I felt OK with just climbing the Naso and getting to Margherita Hut for the day.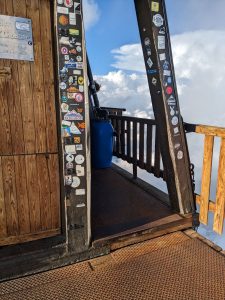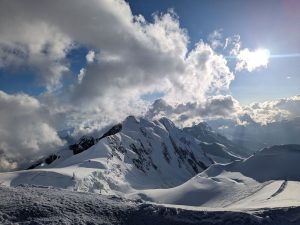 The bedroom was crammed but at least I was in a single bunkbed and I had decent storage on a shelf next to my bed.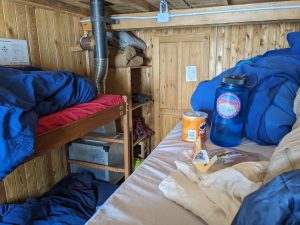 Day 4: Descent to Riffelsee
Dufourspitze, the highest point on the traverse and our original planned objective for Day 4, is now infrequently climbed from the Margherita hut, and no one had done so yet this season. Our guide was concerned that it would have too much snow on it for scrambling. Zumsteinspitze was an option, but the winds were horrendous and I wanted to get through the glacier sections we needed to descend before the sun hit them. So we just went down.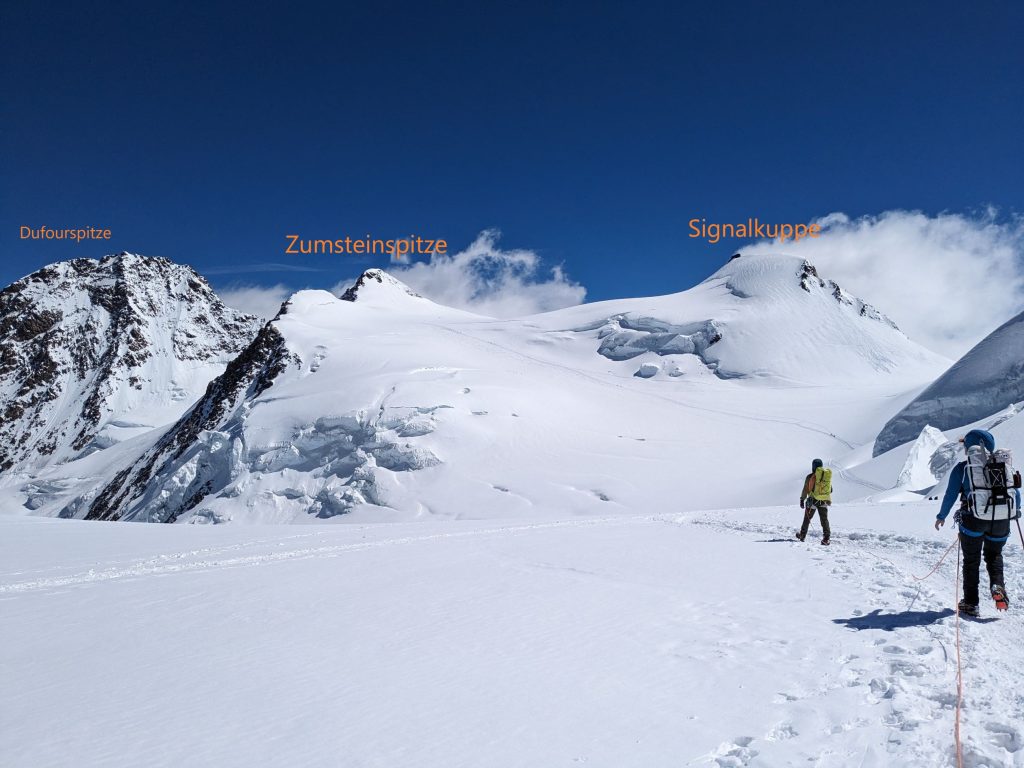 Descending the Grenzgletscher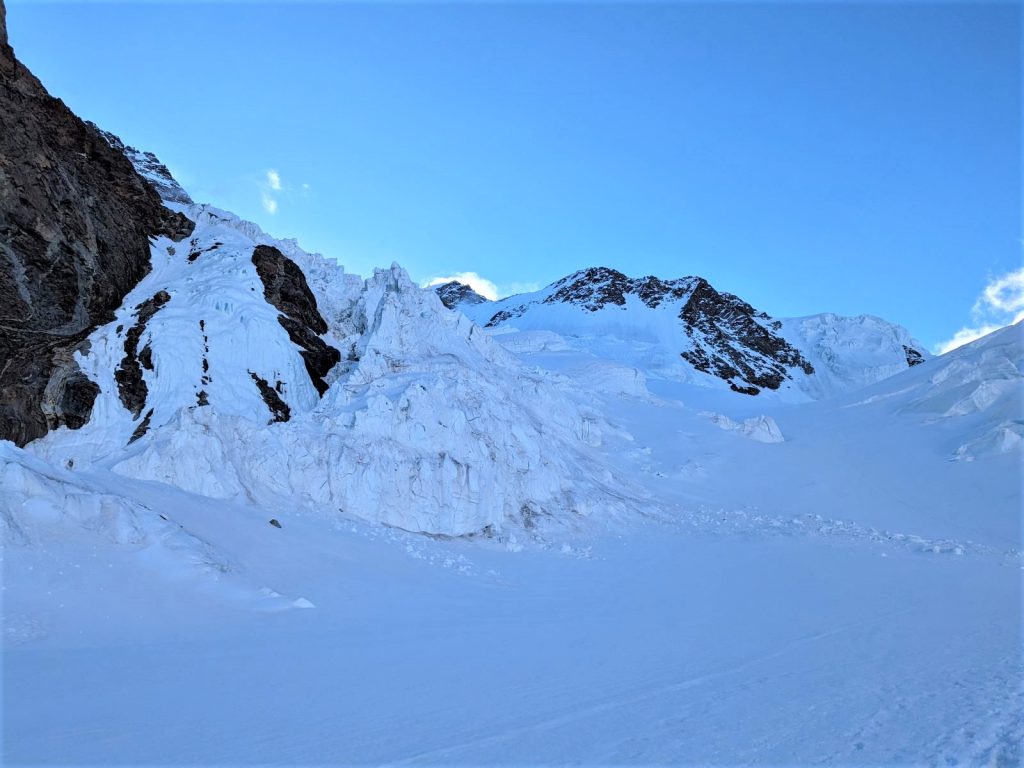 Just going down ended up being a good choice, since we walked below some large seracs and new avalanches on the Grenzgletscher. While we were going up to Signalkuppe the day before, we saw people starting to descend the Grenzgletscher at about 3pm, which our guide thought was crazy. I had to agree.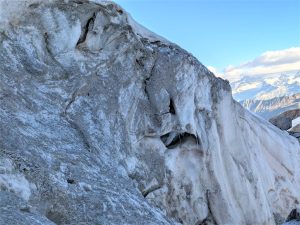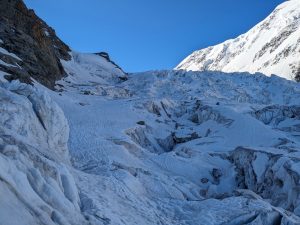 I did really enjoy being on the glacier. It was very pretty and the technical downclimbing on the dry glacier below was interesting. We unroped once we reached the rocks above the Monte Rosa hut and walked down rock that reminded me a bit of the first section of my Canyonlands backpacking trip, just with much less of a fall factor.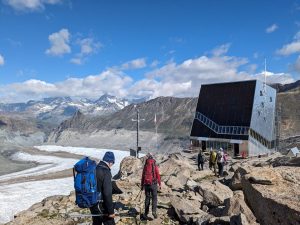 Trekking Back to Civilization
The Monte Rosa hut (9,443 feet) had food and real toilets. My friend paid 10 CHF for a piece of cake. We actually really liked the rest of the hike down. We had to walk quite a bit on dry glacier, which I'd only done before on the Blue Glacier on Mount Olympus. Most glaciers in Washington are reached relatively high, where it is snow covered. There was so much rock and gravel on top of the glacier it was sometimes hard to tell whether you were on glacier or rock.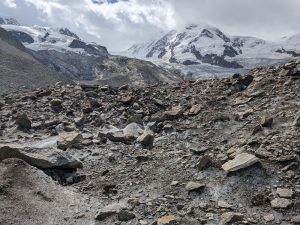 We had our crampons off for most of the dry glacier. Our guide had us put crampons on and short roped us up the last section just before we got back on terra firma permanently. We then climbed up some ladders and walked along some thin rock sections where the rock was really pretty.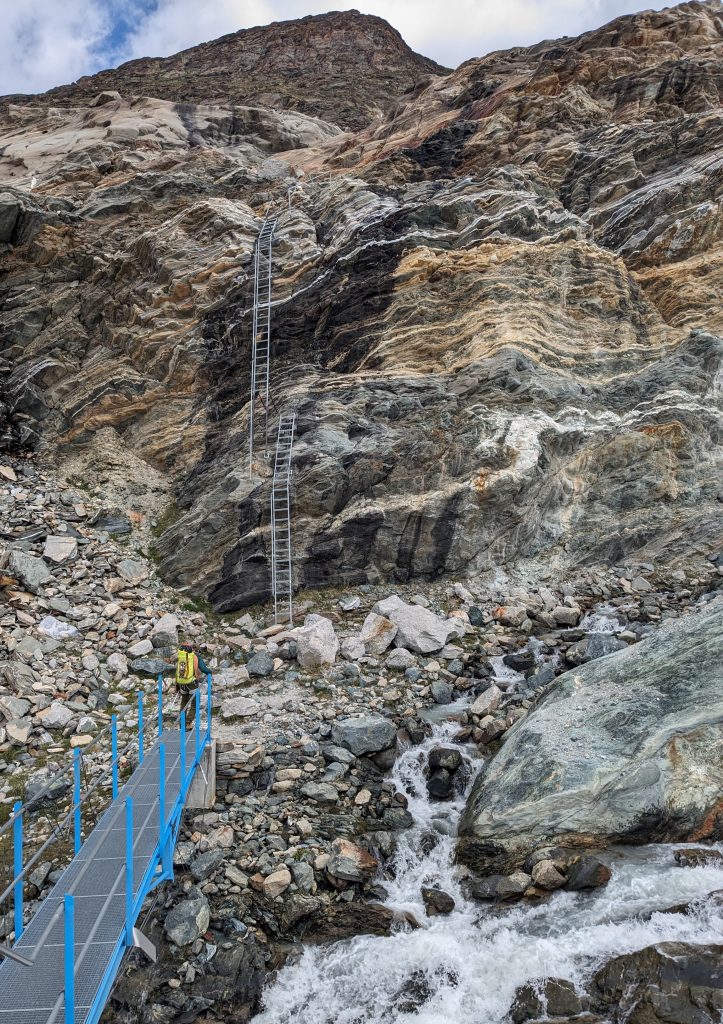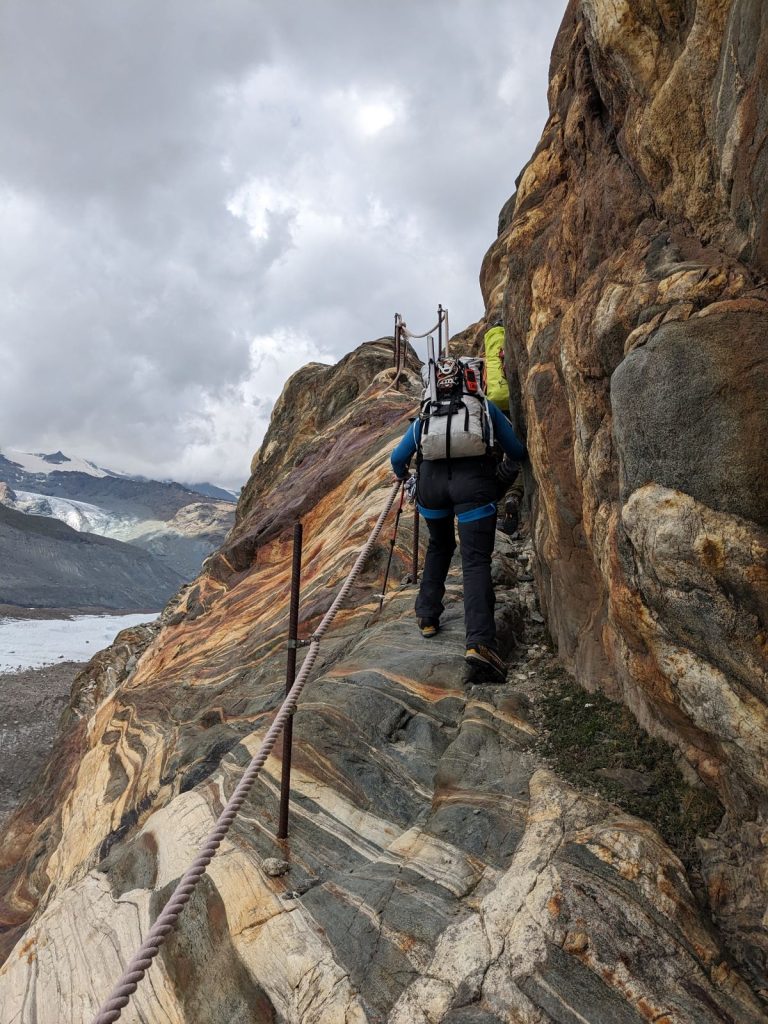 Then we walked across alpine meadows with the glacier below us, with the Riffelhorn in front of us. Then the best part- a 20 minute train ride on the Gornergrat railway back to Zermatt!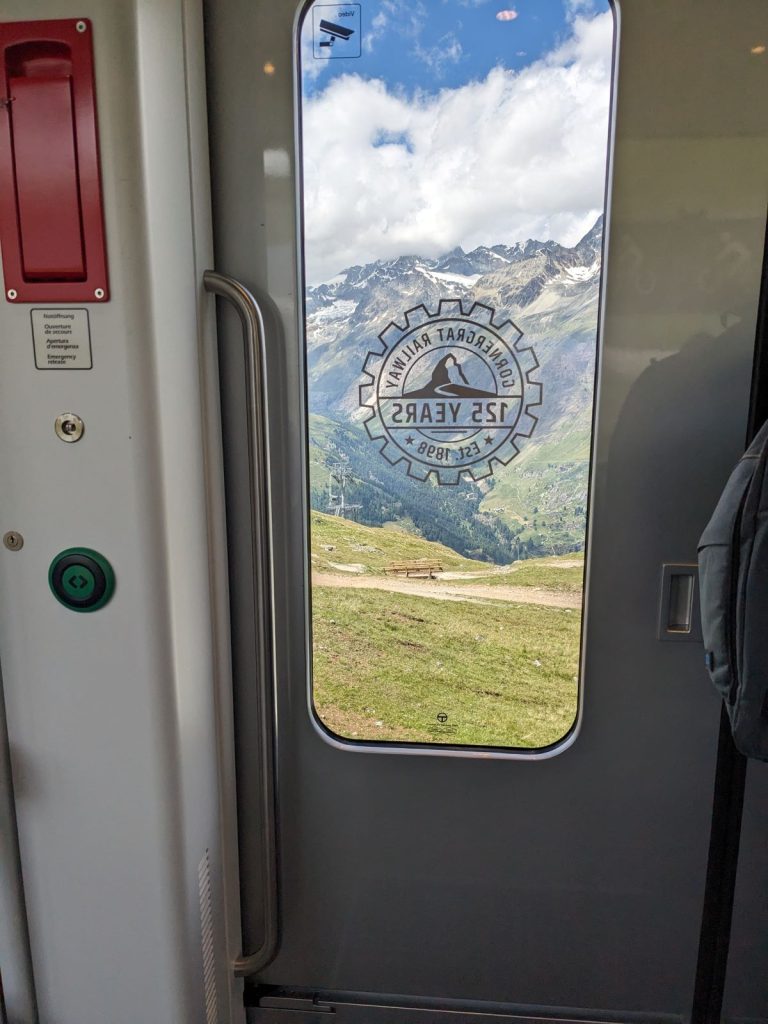 Our hotel (the Sarazena, which I highly recommend) is right next to the Gornergrat railway. We didn't have to walk far to take our boots off!