Canyonlands National Park- Many Canyons, Few People

From April 14-17, 2023, I backpacked in Salt and Horse Canyons in Canyonlands National Park. I wanted some time to decompress after starting a leave of absence from work, and Canyonlands had captured my imagination since I read Edward Abbey's The Monkey Wrench Gang in college. Salt Creek Canyon seemed like one of the easier hikes in the park (important since I would be alone and hadn't backpacked in the desert since college), and seemed like it would provide a good mix of archaeological sites and cool rock formations. It had the added benefit that the northern terminus at Needles Campground was reachable by 2WD rental car.
Logistics and Changes in Plans
The Best Laid Plans…
My original permits was for a south-to-north one-way hike with camping at SC1, the Salt/Horse at-large zone north of the junction with Angel Arch, and LC1. Over the winter I booked (nonrefundable) flights to SLC and booked a $350 shuttle (more than airfare) from the Needles campground northern terminus to the southern Cathedral Butte trailhead.
On March 20, 2023, I got an email that the road to the Cathedral Butte trailhead was closed due to snow, making thru-hikes of Salt Creek canyon impossible, and to contact NPS' Canyonlands/Arches Backcountry permit office to rebook.  They didn't pick up the phone, but I emailed them with a proposed out-and-back itinerary from the northern trailhead and they responded confirming a revised itinerary right away (not exactly what I asked for, but close enough). Doing this as an out-and-back almost doubled the mileage I'd have to hike, but at least I saved $350 on a shuttle.
Call the Visitor Center in Advance
The day before I left, I called the Needles Visitor Center (435-259-4711) to ask about water on the trail (answer: lots of it), and the park ranger mentioned that I should print my permit in advance because their internet is very slow and it can take up to an hour for the visitor center to print the permit. I called the Canyonlands/Arches Backcountry Permit office (435-259-4351) and after talking to a ranger she emailed me a PDF of my permit to print it.
NPS requires bear cans throughout the canyon and wag bags for human waste at Peakaboo and the other specific sites in the canyon (SC4, SC3, SC2, SC1). NPS allows you to bury, but encourages you to pack out, your waste in the Salt/Horse zone. This stuff does not break down in the desert.
4/18/23: Needles Campground to Junction with Angel Arch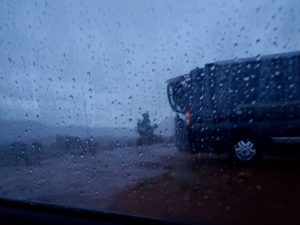 The night before the hike, I tried to sleep in my rental car off of Lockhart Road on BLM land outside the park. It was raining off and on during the drive there, and started raining in earnest sometime after midnight. I know because I couldn't sleep, but that was good because it meant I had an opportunity to close the windward windows on the car before everything got wet. Eventually I nodded off after taking a Wal-som (or two, plus multiple CBD gummies that did nothing. Sleeping in cars is not my thing).  I woke up to dark rain at 6:30am and went back to sleep for about a half hour, worrying that everything would be too flooded and the rock would be too wet.
As I drove to the park, the rain started to trail off. By the time the visitor's center opened at 8am it had stopped raining. I asked about whether the sandstone and ladders would be too wet to descend, and did not get a helpful answer, as neither of the rangers had ever done the hike. I felt sorry for the rangers and decided to give it a shot. If it got sketchy I could always turn around and hike in via Cave Spring.
Sandstone Scrambling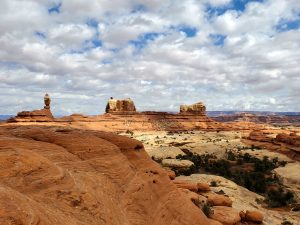 The first section of the hike, from Needles to Peakaboo, was the highlight of the whole trip.  The route contours around the upper portion of the canyons on the sandstone. The sandstone was still plenty grippy for scrambling despite the recent rain. It was a really cool experience of following cairns around the top of these canyons, and in one case, through a hole in the rock.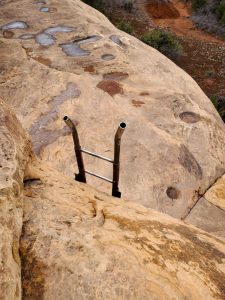 Despite all I had heard about "the ladders," there are only two ladders- one near the beginning of the scrambly section, as you descend into Lost Canyon, and one just before you descend into Peakaboo. I had heard that the ladders were harder to go down than up, which is probably true, but they were fine either way. The last one was a little awkward because it's in a little slot and once you get to the bottom there are still some steps you have to descend, backwards. With a big pack you can't turn around to see anything. But there's a decent crack-type feature to the descenders' right of the ladder that I was able to put a foot in, which gave more options than the big steps.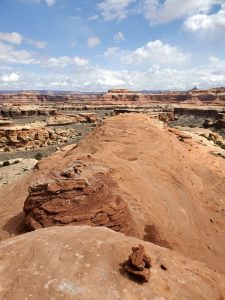 This is a .gpx track of the segment from Needles to Peakaboo for downloading. The cairns followed the route shown in the standard Gaia topo map layer but NOT in the NatGeo Trails Illustrated layer in my Gaia app.
Wet and Muddy Walk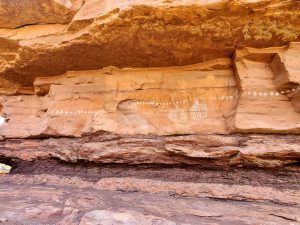 From Peakaboo, I took the long way around following the creek, only to find that once I got to the other side that the trail goes through the arch at Peakaboo and saves about 20 minutes of tramping through the mud. From Peakaboo the trail crosses Salt Creek innumerable times. When I was there the water was at about the highest levels ever, so you will likely encounter less creek crossings.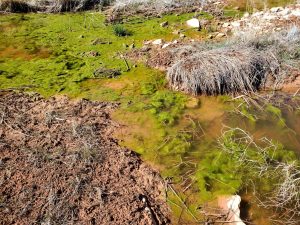 It started to rain, but since the weather had been so variable and it was relatively warm I decided to wait for about ten minutes before putting my gloves on. Three minutes after that, it started to hail and I got really cold. So then I had to get my extra layers on with cold hands in the hail. The hail only lasted for a short time, and the rain stopped entirely after about 10 to 15 minutes. I fell in the mud at one point, but at least I was wearing my rain pants!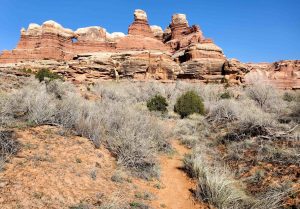 I camped in a grove just north of the junction with the Angel Arch trail. It was a little windy that night but not rainy, which was good because the tarp didn't do a great job of keeping the wind out with a higher pitch. I lowered the pitch the next morning to make it a little more wind-resistant.
4/19/23: Day Hike to Angel Arch and Squash Blossom Ruin
It was pretty cold that night, and I had trouble getting out of my sleeping bag in the morning. The forecast had said the low was going to be about 37 degrees at 8680 feet, but my water was getting slushy at the much lower elevation of 5400 feet.
Angel Arch and Bushwhacking
I hiked to Angel Arch first, since I had heard that it was best in the morning light. I honestly found the other rock formations in the canyon more interesting the Angel Arch. But if you are into angels and/or arches, you would probably like this one.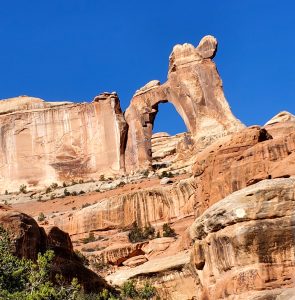 Upon rejoining the Salt Creek trail, I headed south through what seemed like interminable amounts of brush. The creek had flooded the trail at many points, so there was a lot of crossing back and forth and bushwhacking. There was only one creek crossing for which I had to take my shoes off and wade, and the water went almost to my knees.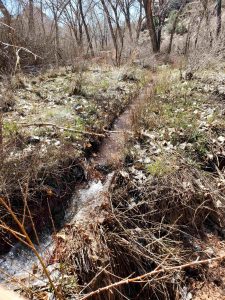 I reached Upper Jump about 2 hours after rejoining the trail. Upper Jump was where the obvious archaeological sites begin. I have heard there is a lot more if you know where to look, but the canyon is so brushy, and the rock naturally looks like bricks at a certain level, so it is hard to see if the rocks are natural or man-made mud bricks. There was one ruin before Upper Jump that I walked right by on the way there and only saw on the way back.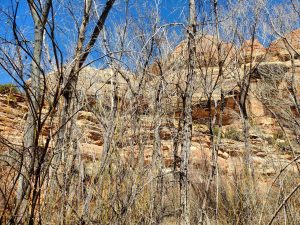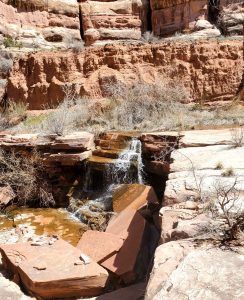 Ruins!
From Upper Jump heading south, the canyon opens up and you get to see a lot of cool stuff. Four Faces, All-American Man, and a couple of small ruins are right on the trail. You do not need to worry that you won't find them. I got as far south as Squash Patch ruin, which is visible from the main trail. That ruin is cool because the squash plants at the ruin are descended from squash plants that Puebloan people planted hundreds of years ago. I wish I could have gotten as far south as Big Ruin, but I wanted to get back to camp before sunset.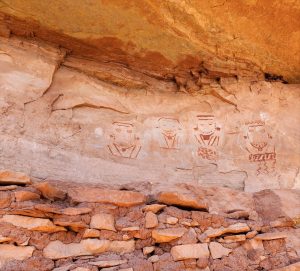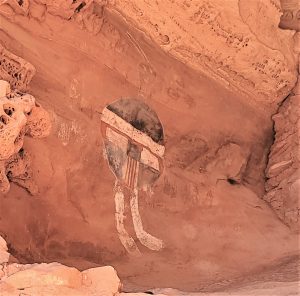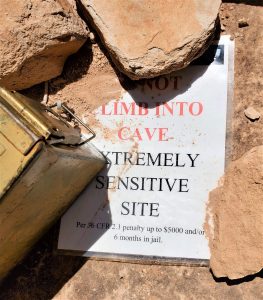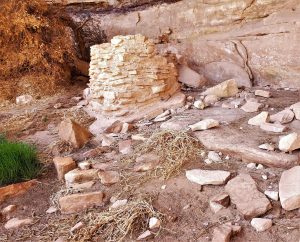 4/20/23: Backpack back to Peekaboo, Day Hike to Tower Ruin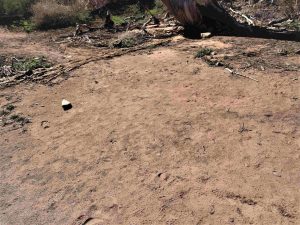 The night of the 19th was the coldest. I wore all my clothes, which meant I had no pillow. I tried to use my pack as a pillow, but that wasn't exactly comfortable. The sun didn't hit my campsite until around 8:30am so I had even more trouble getting out of my sleeping bag.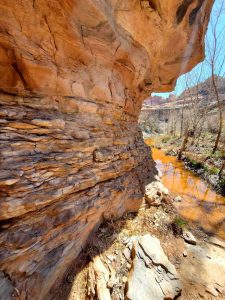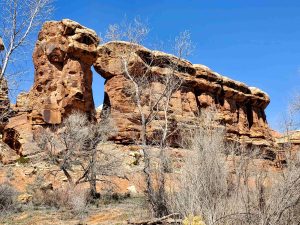 The trek back to Peakaboo was much nicer than the hailstorm I experienced on the way down. It was sunny and I was able to see all the cool rock formations around the trail. It did get pretty warm. I filtered water in the creek before heading up to Peakaboo. I selected a sandy campsite under a (likely dead) tree because it was hot and it was the only site with shade. After putting up my tarp and reorganizing my gear, I headed off to Horse Canyon and Tower Ruin.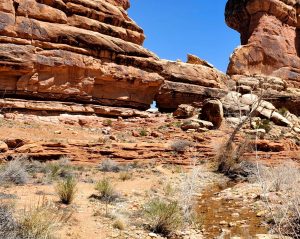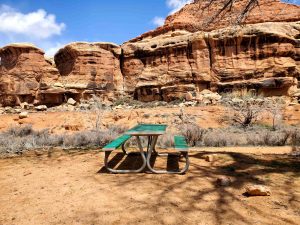 Tower Ruin
Horse Canyon is big and open, more like a big valley than a canyon. The full sun made it feel hot. I found a better track coming back than I did going there. There is a trail through the desert that avoids having to walk in the sand of the creekbed the entire time. Just don't make your own trail!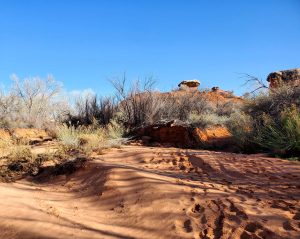 The trail passes by a pothole arch with the uncouth name of "Paul Bunyan's Potty." I'm sure the previous inhabitants of the canyon had a better name for it.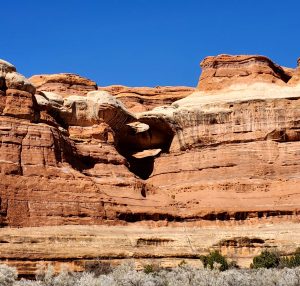 Tower ruin is signed and easy to find. The Puebloans built the tower in a good location to overlook the entire valley, but also to be somewhat secluded. Probably the nicest thing about visiting Tower Ruin is that the alcove it is in is shady.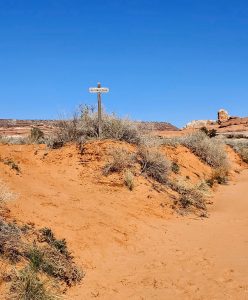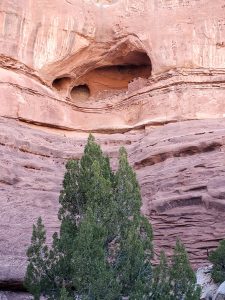 This is a .gpx file for the trail to Tower Ruin.
I filtered water in the last bit of open creek before Peakaboo. That evening I got to eat dinner with another backpacker. He mentioned that Salt Creek canyon had gotten pretty overgrown since flooding occurred about 5 years ago. I wonder how much the above-average precipitation of this year will lead to even more growth in the future.
4/21/23: Hike Out, Get Overwhelmed by all the People at Arches
The night of 4/20 was actually the warmest of the whole trip. I was able to just wear my baselayers in my sleeping bag without any additional insulating layers. I hit the trail around 7:30am so I could get to Arches for my 2pm entry slot. After I climbed the ladder out of Peakaboo I ran into a couple of guys I had seen heading south the previous morning. They had come all the way from SC4 that morning and were hiking out and driving to Denver that day. One mentioned he was afraid of heights, but since he'd already traversed the scramble on the way in I figured he couldn't be that afraid of heights.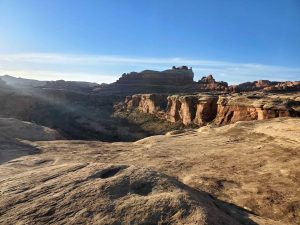 I actually had more trouble finding the cairns on the way back, probably because of the bright morning light and overconfidence. At one point I went very much the wrong way, but I was able to get myself back on track with the GPS. If you find yourself facing a gravely canyon edge, you are not in the right place.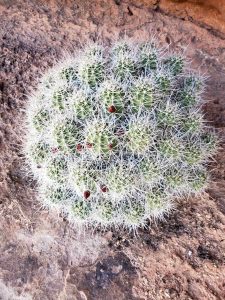 Back to civilization
I headed into Moab, purchased makeup wipes to clean the mineral sunscreen/dirt combo off my face, and ate vegan nachos and not-vegan gelato at the Moab Food Truck Park.
I got to Arches National Park at 1:50pm, 10 minutes before my 2pm timed entry permit, and they let me in. The timed entry thing is recent. I didn't know that NPS required timed entry permits until I saw a big billboard on Highway 191 going into Moab that warned that they were required between April 1 and October 31. I was able to snag a Monday afternoon slot the previous Friday.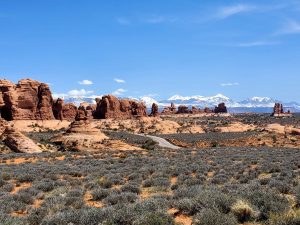 Since I'd seen probably 15 people over the past 3.5 days, I found all the people at Arches pretty overwhelming. Parking was almost full at the Windows, so I can't imagine how packed it was before NPS started limiting entries. I tried to engage by offering to take people's photos, and they took mine. I think a place like Arches is great for families and people with limited mobility/lack of appetite for hard hiking; it was just a lot after the quiet of Canyonlands.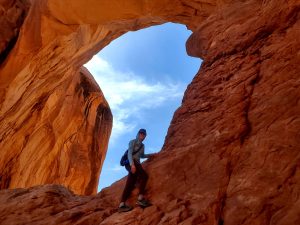 Gear Choices
Sleeping Bag: 32 or 15?
With the weather being a lot colder than expected I was too cold in the 32 degree bag, but that wasn't entirely due to the temperature rating. Since it was kind of windy and I just had a tarp, I waited to pull out my sleeping bag until I was just about to get in, which meant it didn't have a chance to loft up. Also, a bivy and/or another pad would have added warmth.
Tarp or Tent or Bivy?
The tarp was easier to pitch than I expected but I felt a little more concerned about leaving stuff behind when I went off to dayhike. It also meant I didn't give my sleeping bag a chance to loft up. In hindsight, as much as I hate bivies, I should have brought one in addition to the tarp. I would have been screwed had it rained. Even with a low pitch a lot of wind got into the tarp, and the bivy would have helped with the cold.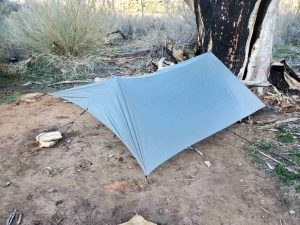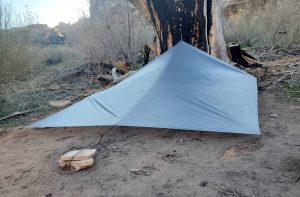 Sleeping pad: closed foam or inflatable?
I brought my Nemo Switchback closed-cell foam pad, which is cactus-proof and I honestly find more comfortable than an inflatable pad, but bringing the inflatable pad would have helped keep me warmer.
Water Filter: Pump or Gravity Filter?
I went back and forth on this a lot and ended up bringing my MSR miniworks filter that I hadn't used since college. It's my go-to for the desert because you can get water out of gross little sludge holes. I used my bandana as a pre-filter. There was so much water that a Gravity filter was a possibility, but I still would have wanted a pre-filter system for a couple of the puddles I got water out of. The main drawback of the pump was the half hour it took to pump 3 liters of water, but it's more reliable and simpler in a water-scarce environment. People kept saying this was the most water they'd ever seen in the canyon, but a lot of the water sources would probably still mess up my Gravity filter without a pre-filter system.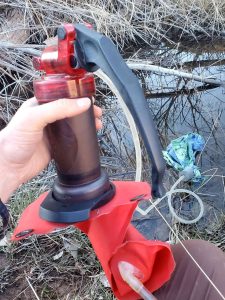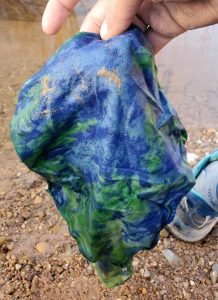 Approach shoes or trail runners?
I wore my La Sportiva TX4 approach shoes and was very happy with my choice. The approach shoes are reasonably comfortable, and I don't think I would have felt nearly as solid scrambling across the sandstone in my trail runners.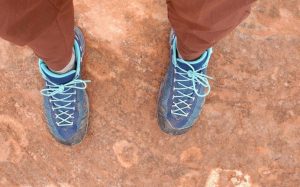 All in all this was a good trip. Physically taxing but a good mental break.