Last weekend I climbed Granite Peak, the highest point in Montana and my 18th state high point. We were a team of three: me, my friend who moved back to Montana during the pandemic, and one of her friends. He is an experienced climber who had attempted the standard route 7 times before but only summited once. We were hoping to add to his success rate.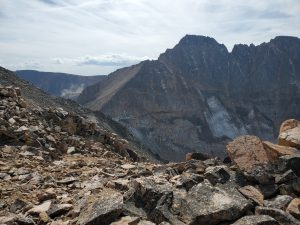 I'd been training for Granite Peak since late July, when we had our first planning call and I realized with a growing sense of dread that I was going to have to start training again!  I had been enjoying the few weeks of freedom from a training plan since Rainier. But, these people were in good shape and I needed to keep up. So, hills.
Mystic Lake and the Switchbacks from Hell
After some flight delays, my friends met me at the Bozeman airport at noon. We made one stop for water and batteries, then it was direct to the West Rosebud trailhead, which we reached around 3pm.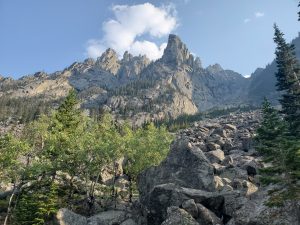 From the trailhead we hiked the easy, flattish 3.2 miles to Mystic Lake. The area around the Mystic Lake dam is very pretty, with large sloping granite rocks that remind me of the Sierras.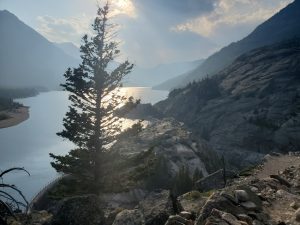 With my flight delays, we were thinking that Mystic Lake may be our destination for the day, but we made good time and wanted to put ourselves in better position for the rest of the climb. So we continued up the 26 "switchbacks from hell" on the Phantom Creek trail to just below treeline.
The switchbacks are not that bad. The trail is well-maintained, and these switchbacks were more akin to the Mt. Si new trail than many of the climber's trails I have scrambled up. Soon after darkness fell, we found a place to make camp just below treeline. We had talked about going further, but we were tired, and already at 9,960 feet, which was really as far as my sea-level body could go in one day. Granite Peak was still nowhere in sight.
It was my first night using a bivy sack. I used the OR Aurora, which my husband already had in our gear closet. With the clear skies, it was basically the same as the "cowboy camping" I used to do in Arizona in college, but with a little more protection from the elements. It was a beautiful night, with lots of stars. Which was good, because I spent a lot of time staying awake staring at them. Sleeping while camping is not my forte, especially when I'm dealing with digestive issues from feta cheese I ate on the plane. I finally fell asleep sometime after midnight. My friends let me sleep in the next morning while they went to get water, which was awesome.
Froze to Death Plateau
Our second day was a short day, crossing Froze-to-Death Plateau to get to our high camp at Tempest Col. I was glad I was with someone who knew the route. The plateau is deceptive. We had to go a lot higher than I expected to avoid a lot of unnecessary ups and downs when we contoured over the plateau.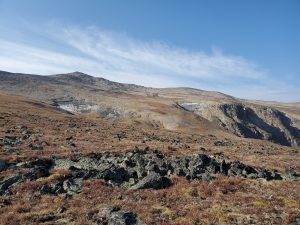 The plateau is very desolate. My friends kept remarking on how beautiful it was, but to me these mountains just seemed like Mordor. As someone from the equivalent of Rivendell, this landscape seemed more intimidating than beautiful.
We stopped at the runoff from a small, sad, remnant glacier to pump water. While I love my gravity filter, I was very happy for my friend's pump filter when we had to get water out of tiny trickles.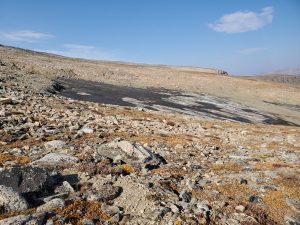 We reached Tempest Col mid-afternoon, and set eyes on Granite Peak for the first time. While we were rigging up a tarp to cover our bivies, a solo climber came by. He had left the trailhead at midnight and was descending from the summit. When we asked him how he was, he responded "I had to drink my own piss!" We hurriedly gave him some water.
My friends went off to get water while I continued to rig up guylines and keep a watchful eye out for goats. Mountain goats in the Olympics are pretty aggressive and will chew up your gear to eat the salt. But these goats were pretty chill, and just watched me while I tried to wrangle a tarp in the wind.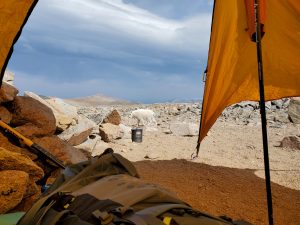 That evening, I went to get water on my own, which meant descending a talus slope to some silty trickles coming off a remnant glacier. Even though I wasn't far from camp, I thought about how quickly things could go wrong in that situation. The sun was going down and a storm was coming in. There is no shelter from the weather on the plateau. I didn't have a beacon, or even a light. Just the filter and empty bladders. It took forever to filter because of how silty the puddle was. I hurried back up to camp, where my worried friends told me that if I was gone another 5 minutes they would have come looking for me.
Like a Sleeping in a Garbage Bag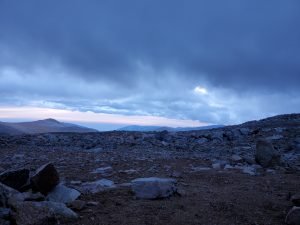 A storm blew through overnight. This was forecasted, and part of why we'd brought bivies- we didn't think our tents would hold up in the wind. We were probably right, since the wind was horrendous. But sleeping in the bivy in the rain was like sleeping in a garbage bag in the rain. I wished I had brought my 30 degree sleeping bag instead of my 15. It was SO HOT. I tried to zip up the bivy all the way (save for an air hole) when it started to rain. It worked at first, and then I got hot and claustrophobic. I could not understand how it was so cold outside the bivy, yet so hot inside.  The next night I would realize I was sleeping in the bivy upside down, so that may have been part of it- the breathable material was underneath me, with the unbreathable material on top. Also, I was still having digestive issues. I fantasized about being indoors.
I didn't sleep until after 1:30am, and then only in snatches, since I would be woken up by rain on my face and have to pull up the bivy hood. The tarp helped, but with the wind it didn't really keep rain out.
We were supposed to wake up at 3:30am for the climb, but the storm was full force. We did another check at 4:30am, and the wind was so bad that our 210-pound leader got blown over when he went to check on conditions. Fortunately the rain had stopped enough that I was now able to open up the bivy, use some of that fierce wind to cool down, and sleep. By the time we did the second check at 4:30am I had finally slept for a whole hour, and wanted to sleep more than climb. We decided we wouldn't be going for the summit of Granite Peak after all.
Late is Better than Never
We woke up sometime after 7am. One of my friends had slept well all night in her bivy and started talking about other climbs we could do in the area. I was like, "look, I have gotten about 15 hours of sleep over the past 3 nights and if we go down the only thing I want to do is sleep indoors." Our leader said "you know, we could still go for it." He went to check if the rock was dry. While he was doing that, I downed my breakfast. He came back and said the rock was dry, and we started preparing to climb Granite Peak.
We finally started climbing at 8am, a full 4 hours after our planned start time. We set a turnaround time of 11am. I did not have high hopes for this. Our leader said he usually estimated 12 hours from camp to camp on summit day, meaning 6 hours each way. We only had 3 to summit before our turnaround time.
Speed Climbing
We traversed across to the saddle between Tempest and Granite Peak through talus, and then up the talus slope to the shoulder of Granite. After two days, we were finally on a slope of Granite Peak. While going up the talus slope, I had to stop frequently to breathe. Despite two nights at elevation, I was still moving slower than my long-legged Montanan friends.
The snow bridge was gone, replaced with a quick crossing across some scree/dirt. A small bit of snow still graced the very edge, marking the top of a snow gully that was the last of the Granite Glacier.
We roped up on the other side of where the snow bridge had been and started simulclimbing. The experienced Montanan led and placed pro. I was in the middle, so I just clipped through the protection. My friend cleaned. This was just 4th class, but it was probably the fastest I'd ever climbed. I was relieved when a piece was a little harder to clean so I could stop to get my breath.
I was very glad to have someone with us who knew the route, since the route finding was way more difficult than I expected and it did not look like the pictures. We passed a group from Idaho, who had started climbing at 5:30am and were pitching it out, slowly. I felt sorry for them. They were definitely moving the way I would have if I came up here during the few years I was trying to trad climb. Very slowly and deliberately. We, on the other hand, were moving FAST.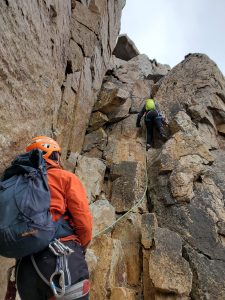 I actually fell at the beginning of the 5th class climbing going up a chimney/flake thing. I stuck my hand into what should have been a decent fist jam, but my softshell gloves were kind of loose and I couldn't get good purchase. The first move was much easier for my tall friends. I was kind of embarrassed to fall on something that's probably rated 5.3 or 5.4, but that's what ropes are for.
My friend who invited me on this trip, who has only been trad leading for a year, led the last pitch. I was very impressed. Maybe I could have led that after I'd been trad leading for a year, but I would have been much sloooweerr.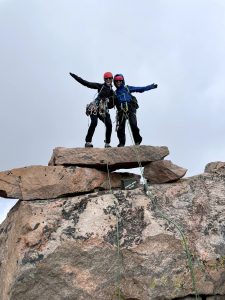 We stepped onto the top of Granite Peak, the highest point in Montana at 11:19am. This was only 19 minutes past our turnaround time and 3 hours and 13 minutes after leaving camp. That sort of speed would not have been possible if we didn't go with someone who knew the route and was a fast leader, and my friend was such a fast cleaner. I don't think I would know which way to go if I went back, since I was just trying to keep up and wasn't looking around much. You generally trend left and upward, except for the last pitch, which kind of goes up right.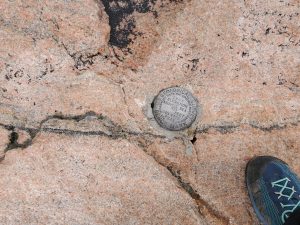 Descent from Granite Peak
It actually took us longer to get back to our camp with all the rappels, about 3 hours and 32 minutes. I was most worried about descending the talus slope down to Bivouac saddle, after a harrowing 2200 feet of the worst scree imaginable on Seven Fingered Jack two weeks before. But this was fine. Mostly large talus and walkable dirt, and not nearly as steep as most of Seven Fingered Jack had been. The storm probably helped, because the rain made the dirt a little more sticky.
While we were packing up camp, another group came by. They had turned around about 400 feet from the summit because they didn't feel comfortable proceeding without a rope. The group had come from the trailhead that morning, which was crazy to me, but they live at some elevation. They had also run out of water, so we gave them some to tide them over and pointed out where the nearest water sources were on the descent. I also expressed surprise at how far they got without a rope. Internally, I thought it was kind of dumb to come all this way to climb what you know is class 5 and not bring a rope. At least bring equipment to rappel!
Rock Bog
Crossing the plateau on the descent seemed interminable. My tall and coordinated friends bounded over the boulders while I had to stop and think occasionally. The boulder hopping was really bothering my Achilles, since it requires putting a lot of stress on the tendon every time I balance on a boulder with my left foot. I occasionally lost sight of my friends and had to ask them to wait up.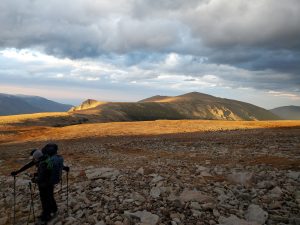 As we neared treeline, we saw a gorgeous sunset with orange colors. The Switchbacks from Hell seemed more hellish in the dark. We just wanted to get down and had no idea how far we had to go. Eventually we reached Mystic Lake and found a spot to camp. We realized after the Idaho climbers came through at 11:30 that we were pretty close to the trail. But this was good, because we were worried about them, and we found out that they had summited and descended safely. Their two day death march with a heavy tent made our 4 day hike seem pretty luxurious.
Back Down
Despite my fears of grizzly bears, I slept pretty well, in part thanks to Wal-Som. It was so nice to not be in rain, and being under trees was very comforting. As I slept, my bivy bag seemed to go downhill while me and my sleeping bag stayed uphill. This was fine with me. I very much hope that will be the last night I ever spend in a bivy bag.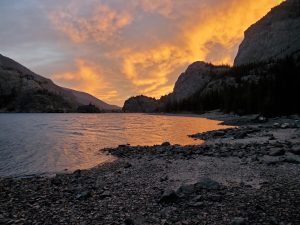 I led the three of us through my warm up exercises the next morning before we hiked out. I explained that my physical therapist's favorite number was 20. My friend said "my favorite number is burger!"