When I started this blog, I envisioned that after I recovered from the injury, I would transition this to writing about my ensuing adventures. I started hiking a lot more, but then didn't have time to write about trips when they were still timely (for example, the heat dome melted most of our route on Rainier's Emmons glacier the week after we climbed it). So I'm excited to actually write a trip report on this blog.
The Big Loop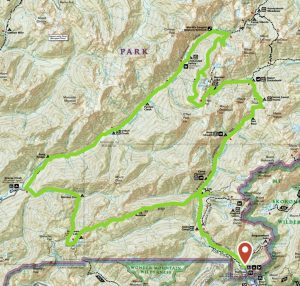 Growing up in the South Sound, I went to the Staircase area in Olympic National Park a lot. Mostly we'd just do the loop around Staircase rapids, and it would take forever, since we were children who had to stop a lot and thought a mile was a long ways. I always wondered what lay beyond the nature trail. My dad had an idea to hike from Staircase into Enchanted Valley, and often pointed it out on maps. We went on shorter forays further up the North Fork Skokomish Valley, such as to Black and White Lakes. But I never made it past First Divide until a weekend backpacking trip to Home Sweet Home a few years ago.
My dad and I even planned a linkup of Enchanted Valley and Staircase with my now-husband back in 2011, but the Forest Service was doing construction on the Graves Creek road during the one window of time that we had. The following year my dad became disabled. A big part of this trip for me was carrying out my dad's vision of doing the linkup.
A friend recently hiked from Dosewallips to Enchanted Valley, which really got my FOMO going, and with COVID limiting my travel plans, it seemed like now was the time to finally do this. I noticed the primitive Six Ridge trail on a map, and wondered if I could do a loop instead of dealing with a car shuttle. I was heartened to see a 2020-era trip report on WTA, meaning the trail hadn't been entirely eaten by the forest since the map was made. After a call with the ranger and paying $46, I had permits for 5 nights along the loop.
I had planned to do the entire trip solo, but a few weeks beforehand, a friend asked if there was a place she could join me for a short section. We planned for her to meet me in Graves Creek, and then we would hike up to Enchanted Valley together.
Day 1: Staircase to Belview
The trail starts out easy-peasy from Staircase. Mostly flat, maybe a little uphill. I made it the 5.6 miles to Seven Stream in about 2.5 hours. I planned to be out for 6 days, and my pack was about 38 pounds, with the large bear can. It seemed like 6 days worth of food for one person was really the max capacity of the large can. I was cold-soaking my food, so didn't bring a stove, but I would learn there were definitely things in there that were dead weight.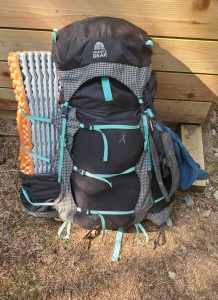 The character of the trail drastically changes as soon as you leave the North Fork Skokomish trail and head onto the primitive Six Ridge Trail. Blowdowns, mud, bushes overgrowing the trail. And you haven't even forded a stream yet!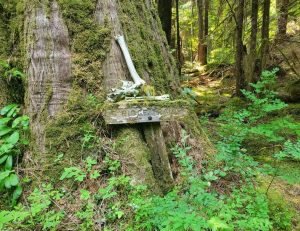 After fording Seven Stream, the trail goes uphill through the forest and along the ridge. I found it to be pretty easy to follow. It was very bushy, so you couldn't always see the trail (or your feet), but the trail was there. There are worse things to bushwhack through than ripe blueberries. Eventually the trail goes across the top of the ridge, which is very pretty. I crossed a few snow fields before nearing the top of the ridge, but was able to make out the trail on the other side of the snowfield.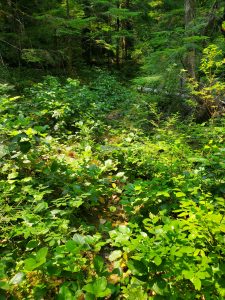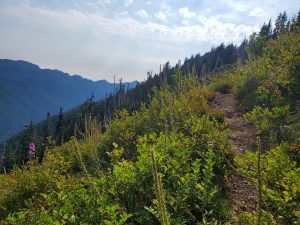 Near the high point of the ridge, there is a sign for Lake Success one way and Belview the other. I wasn't sure which way the trail continued, but knew I needed to get to Belview to camp. I descended in the direction pointing towards Belview, and camped at the first spot I saw. It turns out the nearest stream is at least a half mile downhill from the first site. I'm not even sure if that was "Belview" proper. I got some water and ate my dinner a bit further down the trail from my tent.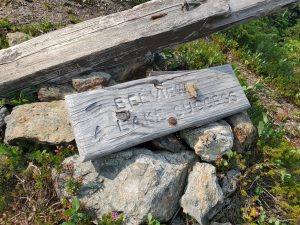 Later that evening, a group came through with a Green Trails map that showed the offshoot trail to Lake Success, and I learned I needed to stay on the "Belview" trail to continue on Six Ridge. Neither my USGS Caltopo hard-copy map nor my National Geographic Illustrated map on Gaia showed this side trail to Lake Success, or Belview's location with any specificity, so this was very helpful. I later found that the Gaia stock map showed the Lake Success side trail, but I was having trouble pulling up that layer on my Gaia app. I'll probably be buying Green Trails maps for my future hard-copy maps. Generally, I found that the National Geographic map was great for trip planning, but less helpful for navigation.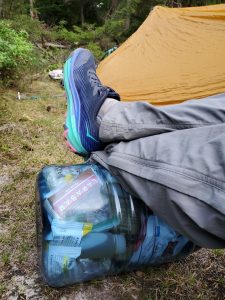 Before going to bed, I contemplated my cell phone battery situation. I spent the night before the hike at my parent's house in Olympia, and I didn't bring a charger with me, figuring it would recharge in the car. It turns out the one hour drive to the trailhead was insufficient, and I started the hike with 55% battery. I got to Belview with about 40% battery, but trying to charge the phone with my solar panel and my husband's battery pack just drained the phone further, down to 27%. The battery pack seemed to be sending pulses to the phone- it would make the phone vibrate and show the charging symbol every few seconds, but wasn't actually charging enough to make up for the losses it caused by doing that. 🙁
Day 2: Belview to Graves Creek
Sleeping when camping is hard for me. After a night of frequently waking up and then laying in my tent until it was light, I got up at 5:15 and was on the trail by 7. I noticed that the other group ended up camping on the far side of the stream, a bit below the trail.
After about 20 minutes of walking, I reached what may be actual Belview- some prominent campsites near a stream in a meadow, with sort of views. After Belview, the Six Ridge trail stays below the ridge, crossing through a series of meadows before going uphill towards Six Ridge pass. The meadows are pretty, but wet and easy to lose the trail in. I guessed right all but once, and was quickly able to return to the trail.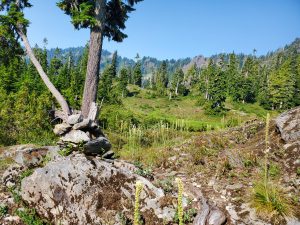 After Six Ridge pass, you get good views of Mount Olympus and the trail is easy to follow. I stopped for lunch at a stream flowing out of Lake Sundown. I draped my rainfly over some bushes to try to dry it out from the last night's condensation, and filtered some water with my gravity filter for a father-son duo who were having trouble using their pump filter while swatting biting flies.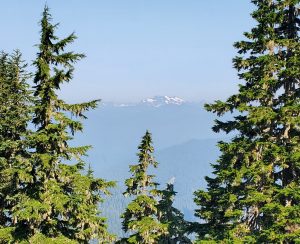 After Lake Sundown, I crossed a few more meadows, and then started heading down the Graves Creek drainage. Between the junction with Sundown Pass and the Graves Creek trailhead, I counted 107 blowdowns. Some were very large logs, and I had to take my pack off and pull it through. There was also a lot of mud in boggy sections, which went up to my ankles at times. I ended up walking through both fords with my shoes on to clean them off. Unsurprisingly, the heel lift in my right shoe doesn't stay in place when everything is wet, so I had to take it out.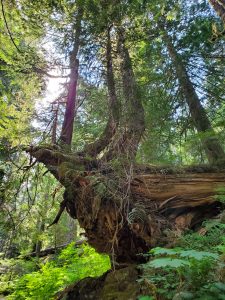 There are a series of washouts on the east side of Graves creek between the trailhead and Success Creek. The beta to go uphill at the largest washout is correct, but I initially went too high. I tried to go back and build some cairns to show where people should turn from going uphill and actually cross the washout.
Despite the obstacles, the Graves Creek trail is very pretty, and I will likely return. There was a really pretty waterfall that fell into black-rock pools that I did not get a photo of because I was keeping my phone off to conserve battery.
I was relieved to meet my friend at the Graves Creek trailhead, to have a break from primitive trails, use a privy, and to be able to charge my phone on my friend's Anker IQ battery pack, which is light and actually works. We had a large site at the Graves Creek campground all to ourselves. It was next to the river, which I sat in to cool off and clean up, but was too cold and fast for swimming.  I put my solar charger and rain pants in my friend's car, but held onto my husband's heavy battery pack so she could use it while I drained hers. That night I decided I actually wanted to sleep, so I took a full wal-som pill and probably slept for 10 hours.
Day 3: Enchanted Valley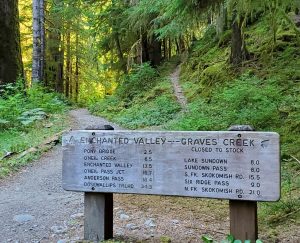 I had been hearing about Enchanted Valley forever, and was excited to finally go there. The dad I met at Lake Sundown said he didn't want to tell me much about Enchanted Valley because he "didn't want to spoil it" for me. I was a bit disappointed to find that the hike there, up the South Fork of the Quinault was just standard Olympics river valley, similar to the Hoh and the North Fork of the Quinault (duh).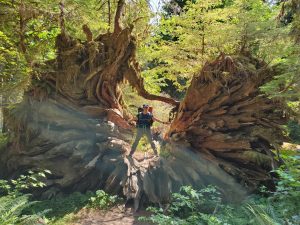 Also, there was a very jerky guy with an off-leash dog near the beginning of the hike. Dogs are not allowed in OIympic National Park at all, so I was surprised to see a dog running up to me, barking. I stopped and didn't move, because I knew approaching the dog could be considered aggression. The dog stopped barking and walked past me without incident. It didn't even have a leash or collar on. The owner came up to us and said, in a condescending tone, "can I help you?" I said "you can leash your dog" in what I think was a calm voice. This unleashed a stream of "what do you care?" and "what's it to you? are you the park service?" I said we used to work for the Park Service (kind of true). He said "KEY WORDS: USED TO" and stormed off. I remarked to my friend that I wished I was bigger so I could punch this guy.
As we got closer to Enchanted Valley, the sky started to darken, and we heard thunder. We knew we were near Enchanted Valley when we had to get through a wooden gate, presumably to keep stock out? We then walked over a cool log bridge, and then got our first views of the chalet in Enchanted Valley and the waterfalls beyond.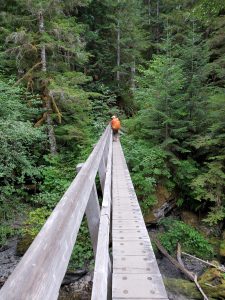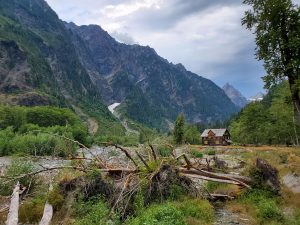 We took awhile choosing a campsite, but put up the tent quickly and got the fly on just as the rain started to fall. It quickly passed, about as soon as the tent was up. We spent the rest of the afternoon hanging out. I attempted to sit in the cold river, which mostly resulted in me shrieking. As if that weren't enough entertainment, a herd of elk showed up. The elk crashed through the forest on the far side of camp. I learned that baby elk make little chirping noises. The ranger said that they come into Enchanted Valley more frequently since the park has restricted more people due to Covid.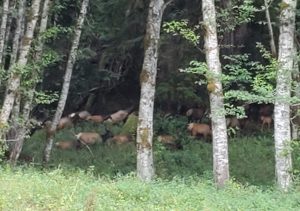 That evening, my friend and I both attempted to poorly draw the waterfall across the valley from us, using a pen and a pencil, respectively, and neither of us succeeded in drawing anything that actually looked like what we were looking at. But it was a fun way to engage with the environment.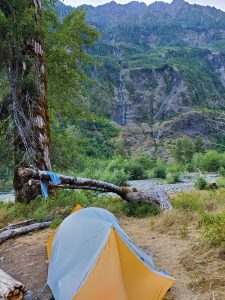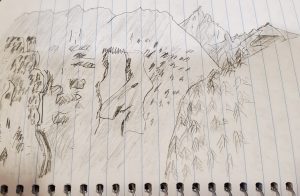 Day 4: O'Neil Pass and Hart Lake
I was glad to get back on the trail the next morning. Although Enchanted Valley was pretty and privy-ful, there wasn't actually much to do. I would be getting into the third river drainage of the trip (the Duckabush), and get closer to completing the circle. The trail went up-valley towards Anderson pass. I could see Anderson Peak in the distance, but before I got close enough to take a good look, I turned off to O'Neil pass. I was able to cross White Creek both times on rocks without getting my feet wet or fording.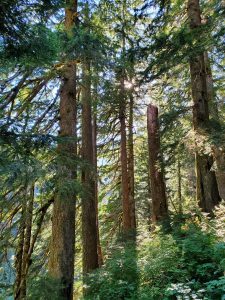 As I headed up to O'Neil pass, it was already getting warm. I was drinking more water than I had in previous days. I started getting paranoid that I would run out and there would be no place to refill. After turning off to O'Neil pass, I filtered once in a difficult trickle, only to walk a little further and have plenty of water.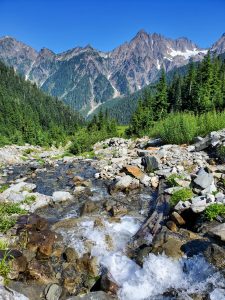 At one point going uphill through forest, I figured no one was around and took my pack off to pull over and pee by the side of the trail. I heard a voice yell "hello!" further up the hill from me and screamed. (I startle easily). It was a group of guys doing the Anderson Pass/LaCrosse Pass/O'Neil Pass loop, who wanted to make sure I wasn't a bear. They reported seeing 3 in the LaCrosse pass area.
One guy coming down said that LaCrosse Pass was the prettiest pass he'd ever seen, but that O'Neil pass "wasn't too shabby either."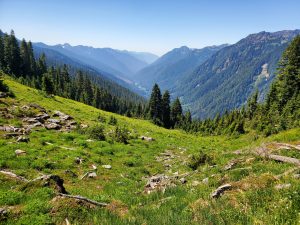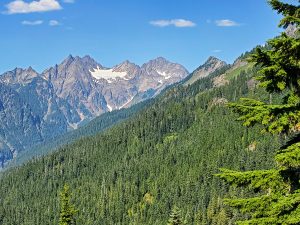 I definitely want to come back and do a loop of LaCrosse Pass/O'Neil Pass/Anderson Pass from the Dosewallips trailhead. Maybe climb up Anderson Peak too. But, I was not disappointed with O'Neil pass, and had these beautiful alpine meadows all to myself. There was so much solitude that at one stream crossing I was able to take my shirt off, soak it with water, and put it back on. It was like an air conditioner.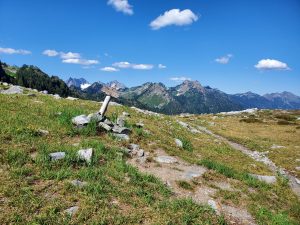 I stood around a bit at O'Neil pass to admire the view and savor the sense of accomplishment from having entered my 3rd major river valley of the trip. From O'Neil pass, I went down to Marmot Lake, which is buggy and green. My permit was for Hart Lake, and I was disappointed to learn it was a mile uphill- this was a point my map had not been very clear on. Whenever I would get to some flat part I would think "oh, I'm here" and I was not. It had already been a long uphill day, and I could feel my Achilles start to hurt.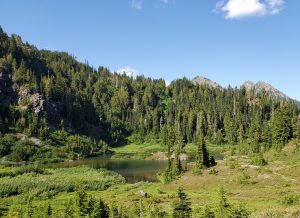 But, Hart Lake was worth it. It was probably the highlight of the trip. There were not many campsites and I initially was concerned there weren't any left. But a couple that was leaving said they were vacating one (they had just come up for the day), and then I scrambled up on a rock outcropping and found another small site on top. That was where I set up.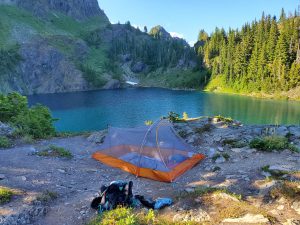 I went for my only real swim of the trip in Hart Lake. It was cold, but not the shriek-inducing cold of the Quinault river. I did not swim long, but it was really cool to swim with a view of the craggy rocks around me. I've been improving my cold tolerance, and I'm glad to see it's paying off. It's really nice to be able to actually enjoy a swim in a cold lake.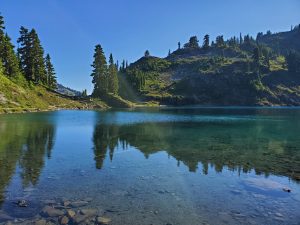 After dinner, the people camped below me pointed out a couple bears on the far side of the lake. They were too far for photos, and I could only make out one. Basically a black lump that ambled around in the meadow on the other side. I was glad to see that unless it was going to swim, it had 3 campsites to get to before it got to me.
Hiking out: Hart Lake to Staircase
I had mentioned to my friend that I might try to get out early. My last camping permit was for Nine Stream, which is only nine easy miles from the Staircase entrance. Wal-som seemed to no longer be working. I slept fitfully and was up early. But I realized if I was going to do all 18 miles today, this was my chance. I left camp by 7:20am.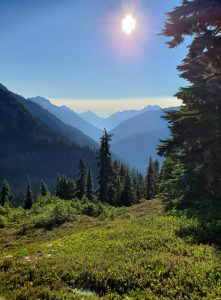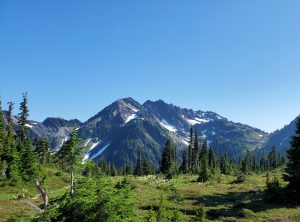 Duck! A bush!
I stopped at the privy at Marmot Lake because it was available. Or at least so I thought. When I reached Marmot Lake, I got behind a  very slow-walking woman on her way to the privy as well. She told me it was in bad shape, but she went to check it out. After quite awhile I heard a toilet slam shut. "OK, finally, she must be done" I thought. She was coming back to tell me she was giving up on it, but wasn't specific about what was so bad. At that point I just wanted to know what the heck was wrong with this privy, even if it took more time. The answer: maggots overflowing onto the seat.
Aren't you glad I don't have a photo?
So I continued downward. The environment below Marmot Lake quickly transitions from alpine to forest as the trail descends into the Duckabush basin. Since the second day when I wasn't able to wear my heel lift because my shoes got so wet, I'd been very careful about keeping my right foot dry to keep the heel lift in place, and was willing to sacrifice the dryness of my left to do so. Biomechanically, this meant I often had to lead with my right foot, which I wasn't as used to doing. A good challenge for my brain. Gives "wet foot, dry foot" another meaning.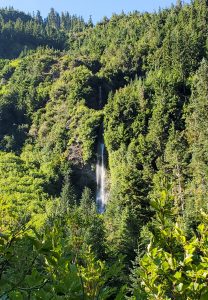 I saw the ford over the Duckabush on my map, but after previous fords only went up to my shin, I was not too concerned. Until I looked at it. Maybe I picked a bad place, but everywhere I looked I saw a lot of holes. The water went up to mid-thigh on me, and this was in August during a drought. Definitely something to keep in mind for future planning of a LaCrosse/O'Neil/Anderson pass loop. Probably end of July or beginning of August. I was glad I brought sandals!
I had another water crossing where I was able to keep my feet dry by shuffling along a very skinny long. As someone who struggles with balance and has some real fear of water crossings, this was next-level for me. Instead of having to shift my weight as I crossed one leg in front of the other, I just shuffled along with left foot in front, right foot behind, using my poles for balance to the extent possible on that skinny of a log. I cannot articulate the level of relief I felt when I got to a tree in the middle of the crossing.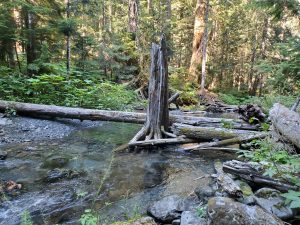 After this crossing I reached the turnoff that would eventually lead me to Staircase. Because of the privy wait and the water crossings, I was moving a little slower than I would have liked, but still on pace to get to the trailhead around 7. I ran into two groups coming down who told me about a missing woman who had gotten separated from her group sometime between Home Sweet Home and Camp Pleasant. She was in her 50s, had a blue hat, blue shirt, and blue backpack. Although my pack is black and white, it has some blue straps that stand out prominently. One group told me that "except for your age," I fit the description of this woman. I said I'd keep an eye out as I headed up.
The Home Sweet Home privy had the same maggot problem as the privy at Marmot Lake. I wondered where my permit fees went and headed into the bushes. As I did, I fell on a log and scraped up my leg. Is this what happened to this woman, I wondered? Had she gone off the trail to go to the bathroom and hurt herself? I reasoned that if I was so injured I couldn't walk, I could at least crawl back to my pack through the bush, hit the button on my personal locator beacon, and make a rudimentary camp on the trial to the maggot privy until help came. Or just a soon-to-be disappointed person looking for a privy.
I stopped for water after Home Sweet Home and then continued up trail to First Divide. There were no signs of anyone. I heard a hooting noise, once, and yelled "hello!" but no response. Probably a bird. The "true trail" seemed pretty obvious, although I noticed some use trails you could potentially follow by mistake.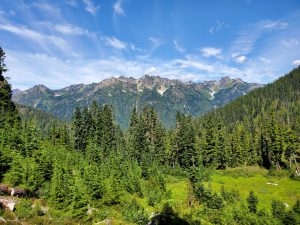 Back in the North Fork of the Skokomish Valley
I reached Nine Stream (which has a functioning privy!) at 2:30  and decided I was getting out that day. I wasn't sure how much information they were giving out about the missing hiker and didn't want my family to panic that I was the missing one. My Achilles also hurt after I tweaked it on a rock coming down from First Divide. It would hurt tomorrow, and it would be better to not have to walk on it tomorrow.
My feet hurt a lot, though. I stopped and put them in the river just before Camp Pleasant. I'd done over 12 miles already, over a lot of rocky sections, and all the elevation gain I would do that. Maybe a lot for trail runners with a 30lb+ pack. I'm sure that five minutes with my feet in the river made me go faster.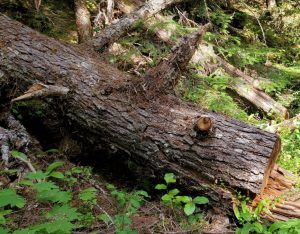 At Camp Pleasant, I met members of the missing woman's party. When they first approached, I responded with what had become my usual greeting for the day: "I'm not Cheri!" "We know," the grim-faced woman said, and I realized that they were her friends. I told them that I had come over First Divide earlier that day and hadn't seen any sign of her. A SAR guy was nearby on his walkie talkie. I didn't quite know what else to say, so I said "I'm sorry" and continued on. Note: Camp Pleasant also has a functional privy.
The rest of the hike was fairly uneventful. The trail does a weird thing after Camp Pleasant where it seems like I got on some sort of detour, but pretty soon I was back to the turnoff to Six Stream, and knew I'd completed the loop. The rest of the hike was a slog. I was so tired. I filtered water just after Slide Camp, happy to know this was the last time I'd have to deal with my multi-step gravity filter in awhile, and happy for a break as the water filtered.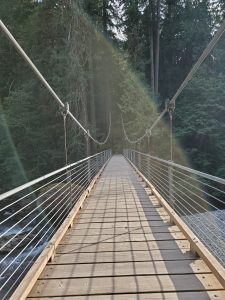 When I reached Staircase rapids, I crossed the bridge and finished on the Four Stream trail on the other side. Of the two ways around the rapids, this one is definitely the prettier. I was dismayed, though, to see how low the water level was. I was also surprised how there was no one there. It was late, around 7pm, but as a kid I remembered this place being heavily populated on hot days by teenagers jumping off rocks into the water. I finally reached the trailhead at 7:20.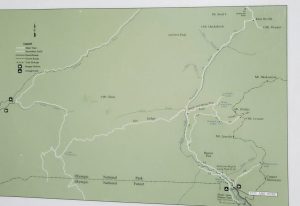 I stopped by the ranger station because I wasn't sure if I should let them know I was out a day early. Strangely enough, the door was unlocked, but no one was in it. I figured they had been interrupted by some news about the missing hiker and forgot to lock the door.
My car was intact in the overflow lot, despite warnings I'd heard about break-ins. I got into my back and pulled out the compression socks I'd been sleeping in every night. I didn't want to dirty the clean ones by putting them on my body. And because I have no appetite when I'm physically exhausted, I just prepared my cold soak dinner of ramen with dehydrated salmon. But I heated it up and added spinach when I got to my parent's house!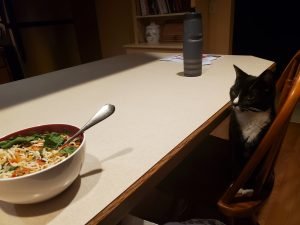 Hiker Found!
The missing hiker was found 4 days later. I came out on a Thursday, the day after she went missing, and she was found the following Sunday. From what I've heard, she got off trail descending from First Divide and then hurt herself. Fortunately she was able to get to an open meadow where a helicopter could see her, and survived those days out in the open without a tent (she did have her sleeping bag).
When I initially heard about this, I was very judgy about her group members "leaving her behind." But it's a well-traveled area. I've been in groups where people have gotten separated, especially where people are descending at different rates (i.e., I'm slow going downhill), and you wouldn't have to be that far ahead of her to miss her going off trail and getting lost. Once she was off trail, it would be pretty hard to know that's the way she went if you couldn't hear her. To me, this further drives home the need for each person in a group to be self-sufficient, and to have a beacon.
Achilles Hurt 🙁
As expected, my Achilles hurt afterward. I have not done much activity generally since the trip ended to allow my body to absorb the training load. On Training Peaks, my fatigue level was -83 when I finished this hike. So, rest was warranted. I've been following my recovery routine and walking my dog.
On Tuesday my Achilles was starting to feel better, so I wore my approach shoes to work in hopes of "breaking them in." That was a mistake. The shoes are pretty inflexible and my Achilles hurt. Then after doing some light hill walking and biking, I had a wildfire smoke-induced rest. I'm going to try hiking this evening on a flat-ish trail, and hope it does OK.
I'm training to climb Granite Peak in Montana in September, and really want to follow my training plan. But, I need to let this thing heal, and am trying to prioritize that above compliance with my training plan.
I also bought new approach shoes today. They'll arrive in a couple of weeks, and are supposed to be way more comfortable than the ones I have. Crossing fingers!
Final Thoughts
Someday, I'd like to hike the Arizona Trail. And the PCT through Washington. And maybe the John Muir trail. After carrying 6 days worth of food into the backcountry pretty comfortably, and still finding stuff I could cut from my pack, I felt like those longer objectives might be within reach. After I take time off to let my Achilles fully heal.