Months two and three post-PRP, I started to ease back into hiking once a week. My first couple hikes in early November were just walks around large parks. I finally made it into the mountains again about 7 weeks post-PRP. I hiked a relatively flat trail, but in the Cascades that still means about 1283 feet of elevation gain.
The following week I did an easy but very pretty snow shoe. Another week after that (9 weeks post), I hiked 2224 feet of elevation gain, over almost 10 miles, and felt so good that on the way down I gave my knee compression sleeve to a friend. My achilles also felt OK going up, and I started to wonder if I could start running again.
I did a slightly shorter hike a couple of weeks later, and was able to hike down fairly quickly without poles. So all good on the recovery front through about week 11.
Pre-Hike Dynamic Warm-up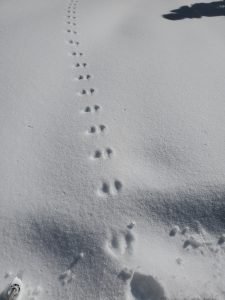 My physical therapist's directions for pre and post-hike instructions. Before hiking, I'm supposed to do a series of dynamic warm up exercises, including:
20 reps of side to side hip movement (no video, but think Serena Williams bouncing back and forth at the baseline waiting to return serve. Except shorter and less fashionable and lacking hand-eye coordination).
3 rounds of inch worms to lunges w/ rotations, lunging each leg each time
Post-Hike Exercises
After the hike, I do 20 downward dog pedals and 20 "falls to wall." which I don't have a video for, but it's basically what it sounds like, except you try to resist falling as long as possible, and keep your heels down. Then push back and try to raise your body back up to standing using your core. I do this against my car after hikes. It looks weird, but I'm injured enough not to care about looking weird anymore.
If you see someone at a trailhead high kicking like a North Korean on parade or falling into their car repeatedly, it might just be me 🙂