For weeks 3-5 after PRP recovery, my main exercise (other than walking my dog) was using my bike trainer, a Kinetic road machine smart bike trainer. I purchased this trainer because: (1) I read that it was one of the quieter on-wheel bike trainers; (2) it's a "smart" trainer (more on that in a bit); (3) and it was on sale on Amazon.
Note: As of October of 2022, I can no longer recommend the Kinetic Trainer. Their old app, which got super glitchy, stopped being supported by Google, and their new app only shows you what your heart rate and power output are at any given time. It does not let you record. I think it will still work with the bike trainer apps I mentioned before, but not having their native app to fall back on and record workouts while I watch YouTube videos of bike routes is pretty upsetting to me.
In this post, I talk about how I set up my bike trainer and review trainer apps, including Zwift, Rouvy, Sufferfest, RGT, Bkool, and Fulgaz.
My Bike Trainer Set-Up
I use my bike with a "training wheel," i.e., a separate back wheel that has its own cheap cassette and a dedicated smooth training tire. This makes the bike quieter, so I don't wake my sleeping husband and dog when I work out in the early morning. It also means that I'm not running my dirty outdoor wheel on the trainer, or wearing my more expensive outdoor tire down. As an accessory, I got a riser ring to keep the front wheel level while the back wheel is on the trainer. I also bought a separate skewer, which was completely unnecessary because the bike trainer came with one. Don't do that. 🙂
My bike is k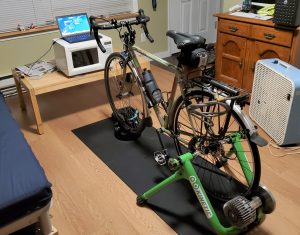 ind of old and has a weird wheel size, so putting the back wheel together was a pain. I did not realize how complicated it would be to make sure the tire, wheel, and cassette all matched the bike. My mechanical abilities are only slightly better than my fine motor skills, so I heavily relied on my husband, who used to be a bike mechanic.
On the tech side, I'm using Bluetooth to link my Kinetic smart trainer with my laptop, which is running Windows 10. I did not have any problems with hooking up the trainer and laptop apart from the one issue with Bkool, below.
Bike Trainer App Review
I wanted to get a "smart" trainer so I could link it to my computer and play a video game of biking through exotic locales. Keep in mind that in Covid times, any place outside my neighborhood is exotic.
I primarily use biking as a substitute for running in mountaineering training. I am NOT training for biking. So what I'm looking for is quite different than someone who bikes competitively.
1 week trial
$14 per month after that
In Zwift, you have your choice of biking through Watopia, an animated fantasy world, or animated renditions of real locales around the world. You only have a few options for where to bike at any given time, ensuring that there are a large number of people in each "world" when you ride.
I thought the fantastical aspect of Watopia was fun- for example, biking in a tunnel underwater. There are also a LOT of people biking and running at the same time, definitely helping you feel less alone. I also had no technical problems
Zwifting through Frustration
I found that Zwift, of all the apps, measured my power output the lowest. This continued even after I calibrated my trainer through the Kinetic app on my phone. I primarily train by heart rate, so I didn't really care, but this became a problem in a couple of instances.
First, I accidentally joined some sort of uphill time trial the first time I used Zwift. There were chat messages flying everywhere that I couldn't really see. I stopped and looked closely at one. It said that if you're having trouble keeping up, to flag someone for help so you don't drag everyone down. Did I accidentally join some sort of group ride? This was a lot more pressure than I expected!
Second, there were times when I just couldn't make the bike go uphill and stay under my aerobic threshold because of the low power reading. At this point in my training cycle, I'm just trying to build an aerobic base. I'm not trying to get a hard workout, but I couldn't figure out how to stay on flat courses.
One morning I was trying to bike up a steep hill in "Innsbruck." I pedaled so hard that my heart rate was far above where I wanted it to be, but Zwift was showing me parked by the side of the road, drinking water. I was reaching the end of my free trial anyway, so I just gave up on Zwift at that point.
I think Zwift would be good if you are (1) a competitive cyclist and (2) have access to your device while you are riding. Given how my computer is set up, I want something I can just set and not have to keep messing with the computer as I ride. Sure, I can change my tech setup, but with all the options, I thought I'd just move to the next option.
2 week free trial

$14 per month (average cost with a 6 month subscription)
My experience with Rouvy was much better than Zwift. They have a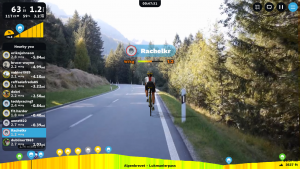 large selection of routes, which you can sort by grade and distance. This is helpful to customize my training to fit the requirements of my training plan, for example flats versus hills.
I also liked that I could ride video routes from around the world, particularly at a time when I can't travel. When Rouvy syncs with Training Peaks, it shows my bike route as if I actually rode somewhere cool, like the first stage of the Tour de France. The video also moves with me, so if I slow down, it slows down. As a slow cyclist, this definitely improved the realism of the experience.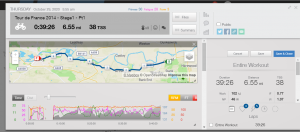 The large selection of routes also has a downside, though. You don't see other people nearly as much, and I don't think there's a way to talk to each other through the app. I know there are also group rides through Rouvy, but I haven't checked them out yet. In Zwift, you feel like you are biking through a vibrant, if cartoon-y, city. In Rouvy you feel a lot more solitude.
If you are a man who wants to train for biking and believes that how hard you bike is related to your manliness, this is the app for you. I am none of those things.
After I stopped laughing at the tattooed man with a handlebar mustache yelling about how Sufferfest was going to make me into an awesome biker, I did like the orientation interface. It walks you through how to use the app in about 10 minutes while you're riding. I appreciated the time efficiency of that. But there seemed to be some sort of problem with my screen getting cut off.
My main problem, though, was that I couldn't just ride. Interval workouts were not what I needed, but that seemed to be all that was on offer.
I also tried to check out the mobility/yoga videos, but the bottom of my screen got cut off and there didn't seem to be any verbal instructions. So I literally could not tell what the person was doing. I closed out of Sufferfest, canceled my free trial, and followed along with a Boho Beautiful yoga video on YouTube instead.
This seemed promising, since there's a free option, but there were two main downsides, one of which was a deal-breaker.
You have to use an app on both your phone and your computer at the same time. The app takes over the screens of both devices. This means you cannot use either device for anything else the entire time you are using the app.
The video for some ride in San Diego wouldn't load on my computer after 5 minutes of waiting. That was a dealbreaker. I don't have a lot of time, and certainly not time to mess around and make a video load.
I really wanted this one to work. It has a huge library of rides- both regular routes and training rides- and a bunch of Peleton-type spin classes. But for whatever reason it would not recognize that my trainer existed. I probably spent an hour and a half, over two days, trying to troubleshoot this. Their support people were very responsive, but not helpful. They just told me to check my manufacturer's instructions on my trainer, which of course I'd already done. So sadly I canceled my free trial and moved on.
With a different trainer, you may get to try this one out. Let me know how it is in the comments!
2 week free trial
$13 per month
I felt kind of "meh" about Fulgaz. I had zero tech issues, having installed it while I was troubleshooting Bkool. Like Rouvy, you can sort routes by distance and grade. But unlike in Rouvy, you can't see other riders at all. The video also does not match your pace. You also have to check the "upload route data" box when your work out is over, and I know that someday I will forget.
The Cheap Version: Watch a YouTube Video
Your cheapest option if you don't do this regularly is to just play a YouTube video of some cool cycle tour that you watch while you ride and then record the workout on an app for the trainer or on your fitness watch. You won't feel like you're going up hill when the video goes uphill, but that may make it more enjoyable. You can also use any old trainer- you don't need a "smart" trainer.
My Pick: Rouvy Or Just YouTube Videos
I had the best experience with Rouvy, and it became the standard I measured all the other apps against. My training goals are not likely the same as the majority of people using bike trainers. But the ability to pick a ride that meets your needs provides a lot of opportunities for customization.
Once I recovered enough to be able to walk outdoors more, I just went with the cheap option of watching YouTube videos while recording the workout in the Kinetic app when I wanted an indoor workout. Once the Kinetic app quit working my bike trainer just became an expensive version of a regular bike trainer.  🙁